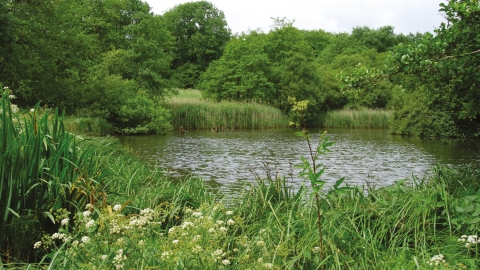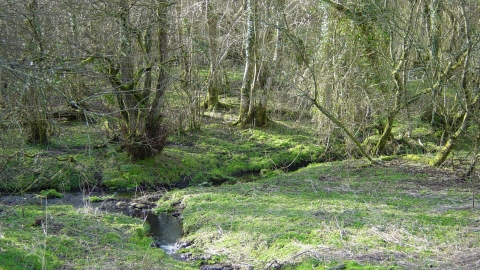 A wetland reserve with a large pond and a variety of plant species throughout
Know before you go
Entry fee
N/A
Parking information
Parking for one car in gateway
Bicycle parking
No
Grazing animals
None
Access
Difficult access site - entrance through field gate onto short slope down to small area of damp grassland. Otherwise boggy and uneven ground with deep mud and open water in parts.
The majority of the reserve is extremely wet and boggy, with uneven ground, tree roots and ditches - some of which may be hidden beneath long vegetation. There is a short track down from the gateway leading to an open glade from which the pond can be viewed but there are no trails or public rights of way, and great care is needed if exploring any more of the site.
Please also be aware of the possibility of falling branches if visiting the site in or shortly after strong winds. Potentially deep open water on site.
Dogs
On a lead
Please remove all dog mess from site. See above for more information about dogs on nature reserves.
When to visit
Opening times
Open at all times
Best time to visit
Spring & Summer
About the reserve
A small, quiet spot brimming with life amid West Dorset's agricultural landscape, this reserve's different habitats provide an ideal home for a thriving population of invertebrates. Wet woodland makes up a large part of the reserve, carpeted with lush green foliage including many mosses and lichens. Around spring time, the woodland floor is decorated in patches with plants such as moschatel, wood sorrel and opposite-leaved golden-saxifrage. Here many types of invertebrates, some quite rare, complete their lifecycles amid the plentiful supply of mud and rotting wood.
At the reserve's heart the low hanging branches of trees brush the surface of a large pond. The pond is gradually silting up which helps to dam up the water, resulting in waterlogged conditions that are ideal for a variety of insect species, including several nationally-scarce species of fly! The site is popular with birds and bats; brought to the area by the abundance of insect life and making use of the many cracks and crevices in the trees. In addition to the pond and woodland the reserve also features pockets of scrub and wet mire systems. As much of the reserve is wet and boggy underfoot, a good point to see reserve is from the open glade a short way down from the entrance. Here you can take in the view of the pond and listen out for the cheerful melodies of wren or blackcap carrying through the air.
Useful Information
Turn off the B3163 towards Hooke, follow the road for 1.8km and look for a left-hand turn for Toller Whelme. Follow this road for 500m and the reserve gate is on the left hand side.
Habitat
Environmental designation
Site of Nature Conservation Importance (SNCI)