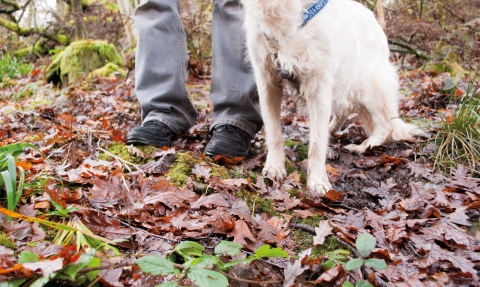 Dogs on nature reserves
Pets on our reserves
Getting out into nature with your four-legged friends is a great way to get exercise and a dose of nature therapy. We welcome dogs on leads on most of our nature reserves, however we would ask you to help us look after our nature reserves by following a few simple rules.
Did you know  that the reason we ask people to pick up dog mess is because the nutrients in it can make it much harder for wildflowers to thrive? They need low nutrient soils and extra dog mess adds nutrients, this encourages thistles and nettles that outcompete the wildflowers. Sadly, on one single day our staff counted 350 dog poos on the main entrance tacks at Tadnoll and Winfrith nature reserve.
Not only is this bad for wildlife, it's just not nice!
The majority of dog owners visiting our reserves understand the wildlife impacts and are just as concerned about irresponsible behaviour as non-dog owners and can be hugely influential given that our staff are not always on site.  The more people are seen doing the right thing, the more others will follow their lead so please help us with this wherever you can.  Thank you!
Please, help us to help nature - scroll down to find out more!
Your dog walking questions answered
Dogs and wildlife

Nature reserves are places for people to enjoy seeing wildlife, and nature to find a safe haven.  Many of our reserves are specially designated for the wildlife they support including bird populations which can be highly sensitive to disturbance in both summer and winter.

Dogs are naturally inquisitive and can accidentally disturb wild animals and instinctively give chase.  This can be particularly damaging if it is a bird on a nest, possibly on eggs or with nestlings, or an animal which is struggling to find food, or hibernating, to get through the long, hard winter months. There is scientific evidence that the presence of dogs is disruptive to wildlife, particularly birds but also mammals and reptiles, and this is significantly reduced by keeping dogs on leads.  To wildlife, your dog is a predator. So if your dog is on a short lead, it means that the dog is always close to you, under control and cannot chase wildlife.  Vulnerable species like ground-nesting birds can just hunker down and let you pass. 

Dog mess is also a threat for uncommon wild plants which need low nutrient soils to survive.  Soil enriched with dog faeces encourages the growth of coarser plants including nettles and thistles which outcompete most wildflowers. It is also quite possible, particularly on our heathlands, that your dog could come across and get bitten by an adder, so keeping your dog on a short lead is the best precaution.
 
Dogs and livestock

To help maintain our grassland and heathland nature reserves, DWT employs livestock (cattle, sheep and ponies) to graze the grass and heath, to keep it in good condition and hold back invasive scrub. It is good practice to keep your dog on a lead around farm animals and horses, for your own safety and for the welfare of the animals.  Sheep are easily frightened by dogs which can lead to ewes aborting their lambs if pregnant.  Should a cow or horse chase you and your dog, it is safer to let your dog off the lead to allow it to run to safety and, therefore, hopefully leaving you alone.
 
Dogs and people

Not all of our visitors are dog lovers and some are easily upset by them, such as very young children and the elderly, so only allow your dog to approach people if invited to do so. We also ask that you always bag and take away your dog's mess; we do not have the resources to be able to host and empty dog waste bins on our reserves so please take mess home to your own bin. It is harmful to natural habitats and should be removed every time. Each dog poo takes weeks to decompose, so with several dogs visiting a reserve every day that's a lot of poo. The yuk factor should be enough. 

On top of that though, dog faeces can also carry diseases which can affect humans, and although cases are rare, children are particularly at risk. Much more common are livestock diseases caused by parasites spread in dog faeces such as neosporosis which is the leading cause of abortion in cattle in the UK. We also recommend that your dog is regularly wormed.
Which reserves can I walk my dog on?

Our nature reserves where dogs are not permitted at any time: 

Broad Oak Orchard
Budgen's Meadow
King's Lane Orchard

Our nature reserves where there are variable zones for dog access. (These will be clearly sign-posted.)

Our nature reserves where there are variable zones for dog access, including areas where dogs can be let off leads. (These will be clearly sign-posted.)

On all of our other nature reserves, dogs are welcome, but please keep them on a short lead at all times.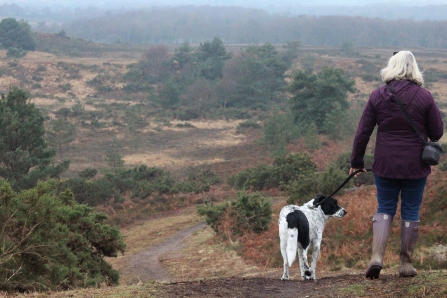 Help us, help wildlife
To avoid harming wildlife and ensure all visitors have a great experience, we therefore ask dog walkers to please:
Keep dogs on a short lead at all times unless you are in a signed area at Lorton Meadows, Upton Heath or Happy Bottom nature reserves, where there are zones were dogs can be let off the lead for exercise.
Bag and take home all dog mess. As mentioned above, dog mess can lead to extra nutrients in the soil, this encourages nettles and thistles and these outcompete wildflowers. Each mess can take months to decompose, as well as being dangerous for livestock and children. It is also just unpleasant for everyone and ruins others enjoyment of our nature reserves.
Respect other visitors, especially those who are elderly or who have small children. Whilst many people love dogs, a dog of any size can cause serious fright and anxiety. Please, only allow your dog to approach people if invited.
Follow on-site requests from nature reserve staff, always adhering to signage. This includes temporary restrictions for livestock grazing and visitor health and safety, whilst we carry out essential work.