Wildlife and nature make a huge contribution to our wellbeing and quality of life; however, the natural world is in crisis. Driven by climate change and environmental degradation, nature is declining at an unprecedented rate. We must act now to reverse this decline by making more space for wildlife and habitats to adapt and recover on a grand scale. If we do that, then nature can help us to tackle the climate crisis by capturing carbon, contributing to flood defences and providing cleaner air, soil and water.
The world is waking up to the impact of climate change and nature loss on our lives and those of future generations and awareness of the need for change has never been higher. People are demanding action to address the climate and ecological emergencies and we need to inspire and empower people to take action for nature. Dorset Wildlife Trust is here to play a vital role in leading that change and enabling people who are clearly thinking globally to take action locally.
The next ten years are crucial for nature, and we look forward to a decade of change. We will work in partnership with people and communities, farmers and landowners, local businesses, our local authorities and other conservation organisations to deliver nature's recovery.
We need as many people as possible taking action for nature and we hope that you will join is in making the 2020s a decade of transformation for the natural environment.
Brian Bleese                                                                              Mark Kibblewhite
Chief Executive                                                                         Chair

A Wilder Dorset - a Dorset rich in wildlife, valued and nurtured by everyone will safeguard our natural world for future generations and enable people to live healthier and more fulfilling lives.
Our role is to lead the recovery and restoration of nature in Dorset and to raise awareness of the diverse range of opportunities for everyone to benefit from nature and get involved in its restoration. Whether that's volunteering on a reserve, joining a youth activity group, an online talk or a guided walk, taking part in a wildlife survey or a community planting day. Nature is for everyone.

Together with the national partnership of 46 Wildlife Trusts, we have  set ourselves two major challenges to help address the climate and ecological crises:
More space for nature – by 2030 we want to see 30% of land and sea managed for the benefit of nature.
Nature has been pushed to the margins for too long. If wildlife is to recover it needs space and that can be in nature reserves, farms, parks, gardens and even road verges.
 
Inspire and empower people – by 2030 we want to help 1 in 4 people to take action for nature.
In order for nature to recover, we need many more people on nature's side. Evidence shows us that if 25% of the population – 1 in 4 people – visibly take action, we create a social 'tipping point', where the majority will follow.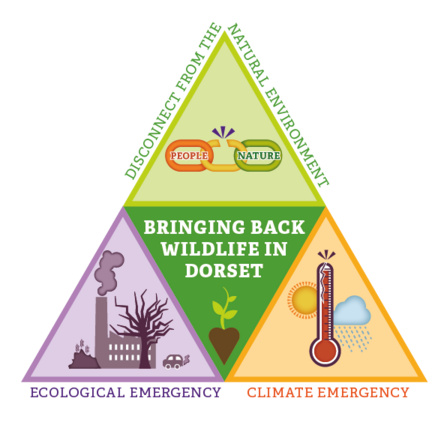 To make our vision a reality, we have committed to three specific and strategic goals to bring back nature to Dorset. We see it as our mission to do everything we can to achieve these goals and create a Wilder Dorset by 2030.
Restore and expand habitats and the abundance and diversity of wildlife.
Champion the natural environment, ensuring that people and wildlife benefit from local policies, decisions and management affecting land and sea.
Inspire people and communities to learn about, value and act for wildlife and Dorset's wild places. Our ambition is that 1 in 4 people in Dorset are involved with nature.
Delivering a Wilder Dorset
In delivering a Wilder Dorset, our work will focus on four key themes:
Wilder Places

Nature in Dorset is much less able to adapt to climate change in its damaged and fragmented state, or to help limit climate change. We need more of our land, freshwater habitats and sea managed for the benefit of wildlife. We aim to:

Manage our nature reserves as exemplar wildlife hubs, showcasing Dorset's habitats and giving our wildlife species, both rare and common, a place to thrive.
Establish nature recovery networks on land and sea, working closely with neighbours, partners and stakeholders to agree long-term management that makes space for wildlife and supports communities and livelihoods.
A Wilder Voice

It is vital that the climate and ecological emergencies are taken account of in all land and sea management, policies and decision-making processes. We will continue to:

Influence local land-use planning to ensure local policies and development protect and make space for wildlife and enable access to green spaces for everyone.
Play a leading role in securing and managing Marine Protected Areas, Local Wildlife Sites and managing river and wetland catchments.
Work closely with our partner Wildlife Trusts to develop and deliver policies and initiatives in a local, regional and national context.
Wilder Lives

Evidence shows that people who spend time in wildlife-rich places are more active and mentally resilient and enjoy better health. Add to that the significant role that volunteers can play in conservation work and it's clear that we need to support individuals and communities to do more by:

Providing accessible and practical opportunities for everyone to actively help manage, experience and find solace in wild spaces, particularly those who have not had the chance to do so before.
Involving more people as volunteers on our nature reserves, at our visitor centres and supporting Dorset Wildlife Trust's activities in a multitude of ways.
Aim for Net Zero

Nature can play a major role in capturing and storing carbon but we must also reduce emissions into the atmosphere. We aim to lead by example and reduce our carbon footprint to achieve net zero carbon emissions by 2030. In doing this we will both learn from and influence others who are on the same journey to address biodiversity loss and the impacts of climate change on their land and in their organisations. We as a charity must be resilient, efficient and fit for purpose whilst achieving the highest standards of environmental performance across our own operations.
Bringing back nature in Dorset
Across the county, we work in partnership with other conservation organisations, utility companies, landowners, farmers and councils on many projects ranging from safeguarding habitats and implementing scientific studies to engaging communities or pioneering conservation techniques such as rewilding.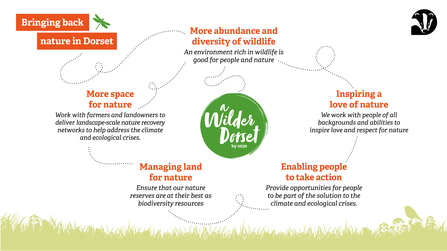 Get involved with Dorset Wildlife Trust
Now you've read our strategy, we hope you will feel inspired to take action for nature.
Together, we can create a Wilder Dorset rich in wildlife and valued by everyone.