Species of the Month: Box Tree Moth
Help us with our wildlife surveys
Our Species of the Month species surveys are an important way you can help us.  Records are sent to DERC (Dorset Environmental Records Centre) who collate this information to build up a picture of the of the state of Dorset's wildlife. So please help us help wildlife by filling in the form below. Thank you!
Species of the Month: Box Tree Moth
Scientific Name: Cydalima perspectalis
Identification

This stunning, black and white moth has a wingspan of 4cm. The box moth caterpillars are green with black heads and are found amongst the leaves of box plants (Buxus) under a loose webbing of silk. 

As the caterpillars grow, they develop brown lateral stripes which become black and white as they age. Older caterpillars reach up to 4cm in length and protect themselves with silk prior to pupating.   
Diet

The name is a big clue on the diet of Box Tree moth caterpillars.

High numbers of caterpillars can completely defoliate a Box plant. They also eat the bark and can 'girdle' a shrub preventing it from drawing water and nutrients from the soil. This makes box moths an unpopular visitor in some gardens! 
Behaviour

Box moths are good fliers and many of the adult moths recorded on the south coast are believed to have flown over from mainland Europe.

Box moths also breed in the UK and adults can be seen flying between June and October. There are several generations every year and the caterpillars protect themselves by hiding in leaves spun together with silk.

Box moths overwinter in the UK as small caterpillars.
Did you know?

The box moth is native to South Asia and, like many 'garden pests', is thought to have accidentally arrived in the UK on imported plants.

The first box moth in the UK was discovered in Kent in 2007 and the first caterpillars recorded from gardens in 2011. By 2018 it had reached as far as Fife in Scotland. 
Where can they be found?

Widespread in the south and spreading across the UK. The caterpillars are found in parks and gardens where box plants are used for topiary or as low hedges.
Wildlife Gardening Tips

The box moth caterpillar only feeds on box plants. Similar caterpillars on other plants will not be box moths.

Pesticide sprays should not be used. These are non-specific and will kill beneficial insects as well as box tree moth. 

Some good news for gardeners is that native insects (a wasp and tachinid fly) have been found to parasitise box moth caterpillars. There have also been reports of blue tits and other garden birds predating the caterpillars. Encouraging and supporting garden wildlife could be an important mechanism of control.

Long term, however, this moth will continue to spread and it is worth considering alternatives such as holly, yew and Lonicera nitida (box honeysuckle) for topiary, and lavender for creating a low hedge.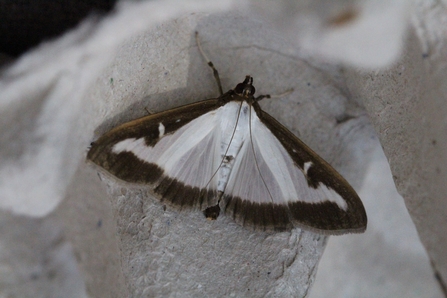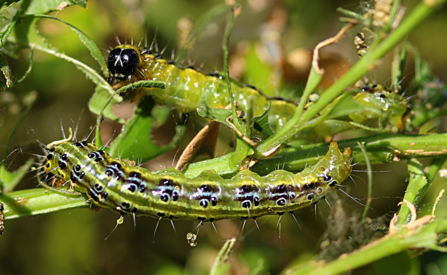 Species of the Month sightings form
Your details will only be used by Dorset Wildlife Trust and we will never give your information to other organisations to use for their own purposes. You can change your communications preference at any time by contacting us on 01202 692033. When you have completed the form, please click the Send button.