Species of the Month: Harlequin Ladybird
Help us with our wildlife surveys
Our Species of the Month species surveys are an important way you can help us.  Records are sent to DERC (Dorset Environmental Records Centre) who collate this information to build up a picture of the of the state of Dorset's wildlife. So please help us help wildlife by filling in the form below. Thank you!
Species of the Month: Harlequin ladybird
Scientific Name: Harmonia axyridis
Identification

Harlequin ladybirds are larger & more 'dome' shaped than our native ladybirds. 

They are very varied in colour (black/red/orange/yellow) and have 0-21 spots. 

There is often a black 'M' mark behind the Harlequin's head, which is absent on a native ladybird.  
Diet

As well as aphids, Harlequin ladybirds also eat many other insects, soft fruits, pollen and nectar. 

Due to their voracious appetite, Harlequins can out-compete native ladybirds for aphid prey.  This is believed to the cause of the decline of the native 2-spot.
Behaviour

Harlequins can survive over winter and hibernate in large groups often in homes and other buildings.  In spring they disperse and mate, laying their eggs on plants covered with aphids.

In a warm summer it can take just a month for Harlequin ladybirds to complete their lifecycle. Consequently there may be several generations in one year.  Many native ladybirds, however, only produce one generation a year.
Did you know?

Originally from Asia, the Harlequin ladybird was introduced into the USA and Europe to control aphids on crops.  It is now the most common ladybird in North America.

It is thought that the Harlequin ladybird accidentally arrived in the UK in 2004; blown into the south east on strong winds from the continent.

It took just a decade for the Harlequin ladybird to spread across the UK, which is 10 times faster than the Grey Squirrel!

Harlequins may be confused with native 10-spot and Cream-Streaked Ladybirds.  The native 10-spot is much smaller (3.5-4.5mm) than the Harlequin (5-8mm), while the Cream-Streaked is less domed and has - wait for it - more cream streaks.
Where can they be found?

Harlequin ladybirds are widespread in the UK and can found in a range of habitats including woodland, grassland, reedbeds and gardens.  They can be readily found on lime and sycamore trees.
Wildlife Gardening Tips

Harlequin Ladybirds are now widespread throughout the UK.  It is not possible, nor recommended, to control their numbers as any chemical treatment would also kill native ladybirds and other beneficial insects.

Although accidentally arriving in the UK, the spread of Harlequins across the USA and Europe demonstrates the dangers of moving species around the world without considering the potential impacts.

See what you can do to help:  Take Action for Insects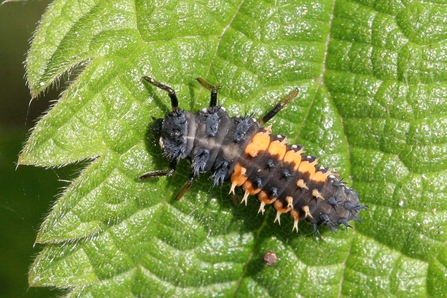 Species of the Month sightings form
Your details will only be used by Dorset Wildlife Trust and we will never give your information to other organisations to use for their own purposes. You can change your communications preference at any time by contacting us on 01202 692033. When you have completed the form, please click the Send button.