Species of the Month: Common green lacewing
Help us with our wildlife surveys
Our Species of the Month species surveys are an important way you can help us. Records are sent to DERC (Dorset Environmental Records Centre) who collate this information to build up a picture of the of the state of Dorset's wildlife. So please help us help wildlife by filling in the form below. Thank you!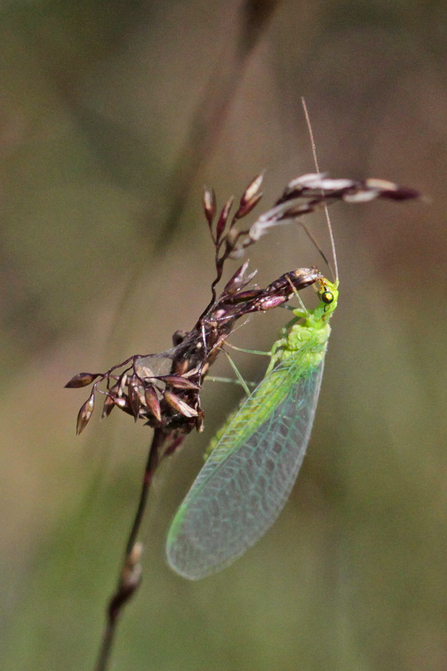 Species of the Month: common green lacewing
Scientific name: Chrysoperla carnea
Identification

Common green lacewings are delicate, pale green insects, with long antennae and stunning golden eyes.  When at rest, the large diaphanous wings extend past the end of the body; a bit like a long lacey 'cloak'. 
Diet

The vegetarian adults feed on nectar, pollen and honeydew. Their larvae, however, are voracious predators of small insects including; aphids, caterpillars and scale insects!  All in all, these are fantastic insects to have in the garden. 
Behaviour

Common green lacewings can be seen most months of the year, but the largest numbers of adults occur between May and September. You may even find them hibernating indoors in the winter, where they huddle together to keep safe and warm. 

In late spring, adults emerge from hibernation and lay white, cigar shaped eggs.  Each egg is attached to a leaf by a single thread. These silk 'pin heads' are a clever way of keeping the eggs a safe distance from predators hunting on the leaf surface.  

The larvae feed until they reach a good size and then look for a nice leaf to safely pupate under.  By mid-summer the first generation of adults emerge and quickly reproduce. By autumn a second generation of adult common green lacewings are on the wing, and it is these that hibernate overwinter; ready to start the cycle again the following year. 
Did you know?

In the winter adult common green lacewings change colour and turn pale brown, often with red spots on the abdomen. 
'Dating' adults meet on leaves and serenade each other by vibrating their abdomens to produce low frequency 'songs'.  
Common green lacewing larvae inject their digestive juices into their prey and after a couple of minutes can suck out the liquified contents, just leaving an insect 'husk' behind. 
The common green lacewing is just one of 18 species of lacewing found in the UK. 
Where can they be found?

Widespread across the UK, Common Green Lacewings live amongst long grass, herbaceous perennials, shrubs and trees. 

They are attracted to light and are sometimes found on house windows. During the day you might see them fluttering around in gardens, parks, hedgerows and woodland. 

You may see a lacewing at one of our reserves, including: Greenhill Down, Broadoak Orchard 

 
How can I help?

To attract adult lacewings, plant lots of pollinator friendly flowers. 

Insecticides will harm welcome garden insect visitors as well as 'pests'. So, ditch the bug-gun and let the lacewing larvae go to work on the aphids! 

 
Species of the Month sightings form
Your details will only be used by Dorset Wildlife Trust and we will never give your information to other organisations to use for their own purposes. You can change your communications preference at any time by contacting us on 01202 692033. When you have completed the form, please click the Submit button.