Species of the Month: Early Bumblebee
Help us with our wildlife surveys
Our Species of the Month species surveys are an important way you can help us.  Records are sent to DERC (Dorset Environmental Records Centre) who collate this information to build up a picture of the of the state of Dorset's wildlife. So please help us help wildlife by filling in the form below. Thank you!
Species of the Month: Early Bumblebee
Scientific Name: Bombus pratorum
Identification

This small bee is one of the first queens to emerge in the spring.  The queens have 2 yellow stripes across the body (one on the thorax and one on the abdomen) and a reddish-orange tail.  The smaller males are very 'fluffy' and, with their long facial hair, appear more yellow than either the queen or female workers.
Diet

Like all bees, early bumblebees need pollen as a source of protein, and nectar for sugary energy. 

In the spring, queens visit a variety of early flowering plants, particularly willow, dandelions, cherry trees and rhododendron.

Early bumblebees are also important pollinators of soft fruit such as raspberries and blackcurrants. 
Behaviour

First appearing in March, early bumblebees look to build nests in a wide range of places including abandoned mouse burrows, dense vegetation, bird boxes, roofs and trees. 

A second generation is often produced, so also look out for new queens from May onwards. 

Depending on the weather, early bumblebees may be seen as late as October. 
Did you know?

Like other bees, early bumblebees moisten the pollen they collect with regurgitated nectar.  This may sound like 'bad table manners' but it makes the pollen stickier and enables more food to be carried back to the hive! 

Early bumblebees have short-tongues which cannot reach the pollen in tubular flowers (e.g., comfrey).  To get round this problem, they nibble holes in the base of the flower and 'rob' the plants nectar.  Great for the bees but not so good for plant pollination!  

In summer you might see early bumblebees foraging on the foliage of non-flowering shrubs and trees.  They aren't confused, just feeding on the sugary honey dew produced by aphids! 
Where can they be found?

This is one of our most common and widespread bumblebees.  It can be found throughout the UK in woodland, gardens, brownfield and scrubby habitats with lots of brambles. 

You may see early bumblebees at one of our reserves, including: 
Wildlife Gardening Tips

To attract early bumblebees, plant early flowering shrubs (eg. cherry, blackthorn) for the queens and a range of plants that flower throughout the year for workers and late season queens (eg. dead-nettle, raspberries, clover, cranesbill and scabious). 

Don't be too tidy! Leave areas of your garden undisturbed for queens to hibernate and to build nests.  

See what you can do to help:  Take Action for Insects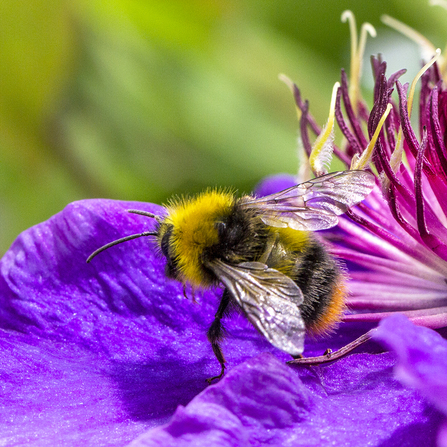 Species of the Month sightings form
Your details will only be used by Dorset Wildlife Trust and we will never give your information to other organisations to use for their own purposes. You can change your communications preference at any time by contacting us on 01202 692033. When you have completed the form, please click the Send button.