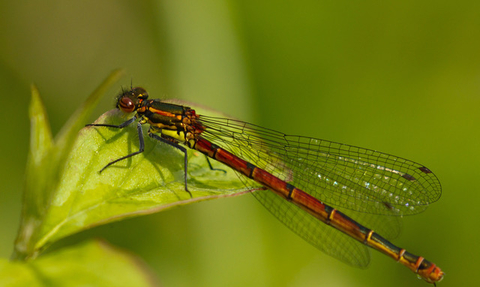 Species of the Month: Large red damselfly
Help us with our wildlife surveys
Our Species of the Month species surveys are an important way you can help us. Records are sent to DERC (Dorset Environmental Records Centre) who collate this information to build up a picture of the of the state of Dorset's wildlife. So please help us help wildlife by filling in the form below. Thank you!
Species of the Month: Large red damselfly
Scientific name: Pyrrhosoma nymphula
Identification

In late spring, the large red damselfly is one of the first damsels you might see. It has large red eyes, black legs and wide red stripes on its black thorax.

By summer, it might be confused with the later emerging small red damselfly. This however, is a more diminutive species with red legs, rather than black, and it has very thin stripes on its thorax.

If you are pond dipping, the aquatic larvae of large red damselfly have a distinctive 'X' pattern on each of their three 'tails'.
Diet

Both the aquatic larvae and flying adults are predators. The larvae initially eat tiny planktonic creatures, but as they grow larger, so do their appetites!  The final larval stages are munching on larger mayfly and midge larvae. The adults, like all dragons and damsels are highly efficient predators, feeding on small flies and mosquitos. They bite off the wings before chomping through the body of their prey!
Behaviour

Large red damselfly can be seen 'on the wing' between April and mid-August. They breed in ponds, canals, ditches and acid bogs, but also keep a look out for large groups feeding along sunny hedges and woodlands. Most of the two-year lifespan is spent as an aquatic larva. On average, the adults only live between five days and six weeks; just long enough to find a mate and breed.
Did you know?

Unlike other damselflies, the large red damselfly larvae are highly territorial and use the 'X' mark on their 'tails' to signal that this is their patch.
Most large red damselflies synchronise their emergence as adults within a three-week period in early spring.
Large red damselfly adults will gain a lot of weight in the 12-16 days before they are mature. Males typically gain 14%, while females put on a whopping 66% of their emergence weight! Most of this is eggs.
The female will lay between 350 and 750 eggs on underwater or floating plants.
Where can they be found?

The large red damselfly is common and widespread in ponds and ditches across Dorset. Look out for them if you have a pond in your garden. You may also see this and other damselflies at our small reserve at  Sutton Holms and on beautiful Brownsea Island.
Wildlife gardening tips

If you have a pond, make sure it has aquatic plants for the large red damselfly to lay her eggs on. Where possible use rain water to fill and top up your pond. It won't contain as many nutrients as tap water, which means there won't be too much green algae in your pond. Aquatic plants will also help use up any excess nutrients.

Dig a pond for wildlife. Size doesn't matter, but make sure your pond has sloping sides to enable safe access for hedgehogs.

Help keep our rivers and streams flowing and help stop our lakes and reservoirs from drying up by saving water.

Find out what you can do in your home and garden to take action against climate change.

You can find more information about dragonflies in Dorset from the British Dragonfly Society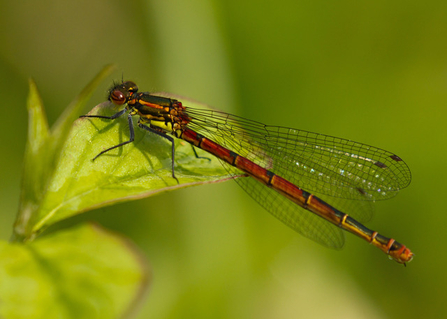 Species of the Month sightings form
Your details will only be used by Dorset Wildlife Trust and we will never give your information to other organisations to use for their own purposes. You can change your communications preference at any time by contacting us on 01202 692033. When you have completed the form, please click the Submit button.