Species of the Month: Jackdaw
Help us with our wildlife surveys
Our Species of the Month species surveys are an important way you can help us.  Records are sent to DERC (Dorset Environmental Records Centre) who collate this information to build up a picture of the of the state of Dorset's wildlife. So please help us help wildlife by filling in the form below. Thank you!
Species of the Month: Jackdaw
Scientific Name: Corvus monedula
Identification

Smaller than their rook relatives and crow cousins, jackdaws have grey 'shawls', black caps and pale 'steely' eyes.
Diet

Jackdaws enjoy a varied diet; tucking into insects, fruit, seeds and scraps. Being resourceful birds, they will also eat carrion and occasionally take young birds and eggs.
Behaviour

In winter, jackdaws join rooks and crows in large feeding flocks.

Jackdaws 'find love' in their first year and you can often see these young couples flying around together.

Jackdaws would naturally nest in tree holes and rock crevices but, when these resources are scarce, these adaptable birds will also use buildings and chimneys.

Jackdaws often mate for life and both are dedicated parents, working together to rear their young.

Jackdaws roost in woodlands and frequently perform a community 'sky dance' before settling down for the night.

On average, jackdaws live for five years, but one ringed bird was found to be 18 years old!
Did you know?

The jackdaw call is a hard 'tchack', which sounds like they are all looking for 'Jack'. You can hear their sharp calls amongst the croaks of nearby crows here.

Due to their distinctive, mechanical calls and noisy gatherings, a group of jackdaws is called a 'clattering' or 'train'.

Like all corvids, jackdaws are very intelligent. There is even evidence to suggest they use their bright eyes to communicate with each other; something it was thought only primates could do!
Where can they be found?

Due to their adaptability and resourcefulness, jackdaws are widespread and common across much of the UK. These sociable and entertaining birds frequently roost in trees and can often be seen in fields, woods, parks, gardens and towns. 
Wildlife Gardening Tips

Jackdaws will happily feed on bird tables and, despite their size, are agile enough to eat from bird feeders. Although they can be seen in gardens all year, jackdaw numbers are greatest when the adults are searching for food to feed their hungry brood in early summer.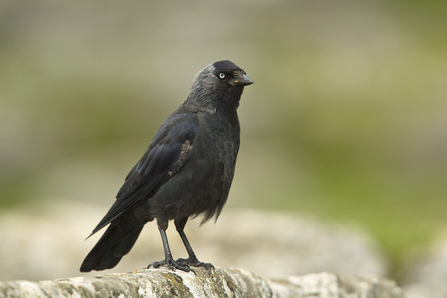 Species of the Month sightings form
Your details will only be used by Dorset Wildlife Trust and we will never give your information to other organisations to use for their own purposes. You can change your communications preference at any time by contacting us on 01202 692033. When you have completed the form, please click the Send button.