Species of the Month: House Martin
Help us with our wildlife surveys
Our Species of the Month species surveys are an important way you can help us.  Records are sent to DERC (Dorset Environmental Records Centre) who collate this information to build up a picture of the of the state of Dorset's wildlife. So please help us help wildlife by filling in the form below. Thank you!
Species of the Month: House Martin
Scientific Name: Delichon urbicum
Identification

These black and white aeronauts can be distinguished from swifts and swallows by their smaller size, distinctive white rump and small 'chip fork' tail. 
Diet

High, agile fliers, these birds feed on insects caught on the wing. They are frequently seen feeding on midges and mayflies by rivers and ponds. 
Behaviour

Loved for being heralds of spring, house martins return to the UK in March and April. 

House martins use mud and grass to build nests in the eaves of houses. Old nests built in previous years are often repaired and reused, but rarely by the same breeding pair. 

Depending on the weather and supply of insect food, house martins can raise 2 or 3 broods each summer. 

In autumn they migrate thousands of miles to spend the winter in Africa. 

You may hear them 'chattering' to each other overhead. Hear an example of their flight calls in the player below. 
Did you know?

Pools and puddles providing the damp mud for nest building need to be within 300m, and ideally 150m, of the nesting site.

Surprisingly we still don't know where in Africa UK house martins spend the winter, or the route they take to get there. It is hoped that small tracking devices, the size of a shirt button, will help reveal their migration routes and final destinations.  

House martins are short-lived and most usually only live for one year. A few, however, survive longer and breed for 5-6 years. 

The number of house martins breeding in the UK has fallen dramatically. They are currently on the amber list as a bird of conservation concern and need our help. Possible reasons include; a decline in insect prey, reduced access to mud for nest building and a lack of suitable nesting sites on new houses.   
Where can they be found?

House martins can be seen in nesting in small towns and feeding over wetlands. You might see them at one of our reserves: Collyer's Brook, Brooklands Farm and more. 

During the autumn, large flocks may be seen gathering on the coast waiting for good conditions to start their migration. In 2020, large numbers were seen at Charmouth and on Brownsea Island. 
Wildlife Gardening Tips

If you are very lucky, you may get house martins nesting in your house eaves. You can give them a helping hand with special nest boxes which look just like their 'mud cups'. 

It is a good idea to encourage insects as these will provide food for house martins and other creatures. So, don't be too tidy, leave nooks and crannies for insects to hibernate, plant for pollinators and do not use pesticides.

See what you can do to help:  Take Action for Insects 
Hear the house martin's flight calls: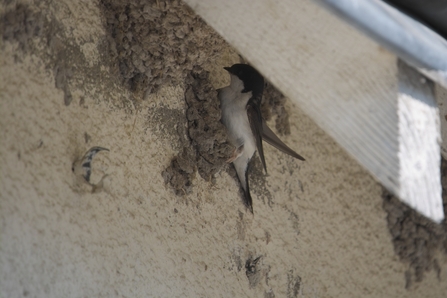 Species of the Month sightings form
Your details will only be used by Dorset Wildlife Trust and we will never give your information to other organisations to use for their own purposes. You can change your communications preference at any time by contacting us on 01202 692033. When you have completed the form, please click the Send button.