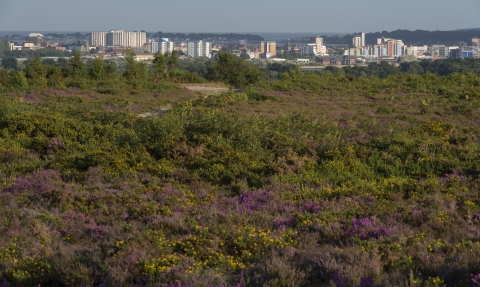 The Great Heath Living Landscape
An Urban Living Landscape for Dorset
The Great Heath once covered most of south-east Dorset, from Purbeck to the New Forest, broken only by river valleys and small settlements.  Now it is a diverse landscape of heathland, farmland, woods and wetlands, entwined with the conurbation of Poole, Bournemouth, Christchurch and east Dorset. 
When a significant area of The Great Heath came up for sale by the Canford Estate, Dorset Wildlife Trust formed a partnership to secure these precious wildlife habitats.  The partners took this unique opportunity to give nature a future across the conurbation by creating Dorset's first urban 'Living Landscape' for people and wildlife. 
589 hectares secured for wildlife and people

The Great Heath sites include heathland, woodland and meadow, wetland, harbour and marsh.   

Heathland – formed by nature and man living in harmony for thousands of years and now home to some of the rarest wildlife in the country – including Ferndown Common, Parley Common, Upton Heath, Dunyeats Heath and former heathland of Arrowsmith Coppice. 

Parts of Poole Harbour – the largest natural harbour in Britain, an internationally important refuge for wildlife and a site of great strategic, commercial and leisure value for people –including Holes and Lytchett Bays. 

Woods and Meadows – at Happy Bottom, Ashington Meadow, Delph Woods and Arrowsmith Coppice. 

Lytchett Bay © Tony Bates
Bringing People and Wildlife Together

We want The Great Heath Living Landscape to be rich in wildlife and highly valued, enjoyed and nurtured by people. 

An army of volunteers help to restore habitats for people and wildlife to enjoy and thrive in.  Volunteers also help to record the wildlife found in The Great Heath, run events and a host of other tasks to help connect people to nature. 

Our event programme aims to connect people of all ages with the Living Landscape, ranging from guided wildlife walks to community events, forest schools and workshops. 
Nature Parks

Out of The Great Heath project we have been able to create 3 new Nature Parks.  Nature Park is not a statutory designation but a public expression of the intention of the partnership to work together to manage the area for its special features and value to people and wildlife.  
Making wildlife welcome

The Living Landscape includes every space available to wildlife and that includes your garden, local green space, business premises, the list goes on… 

We encourage everybody to think about wildlife on their plot and to apply for a FREE Wildlife Friendly Garden plaque. We have lots of free advice on our website and run workshops and talks too.  You can read more in our final report on the project below.

 
Walking and cycling The Great Heath

From a five minute stroll to a 64-mile hike, discover an amazing wild world of woods, heaths, meadows and shoreline by following one of The Great Heath's waymarked trails.  

The 16.5 mile Castleman Trailway is at the heart of The Great Heath and a fantastic way to discover many of its sites.  Following the old Southampton to Dorchester railway line, this gentle route for walkers and riders is now much easier to use, thanks to The Great Heath's access improvements led by Dorset County Council. You can find out more here.

The Stour Valley Way is a designated footpath that follows almost all of the 64-mile course of the magnificent river Stour.  Thanks to The Great Heath, it now has new gates, oak benches and waymarking for the entire route from Stourhead to Hengistbury Head. Find out more here.

Our map guide Walking in The Great Heath has a range of suggestions for walks to suit all abilities and ages right across the area.  You can find it below.

For walks in the Corfe Mullen and Broadstone area, there is a downloadable leaflet with suggested routes on foot or bike in the Corfe Barrows Nature Park – printed versions available at the Urban Wildlife Centre BH21 3RX link. 

 
Get Involved

Explore The Great Heath:  Find out your nearest Great Heath site for you and your family and friends to explore, visit new places and discover amazing wildlife right on your doorstep. Click here to explore reserves.

 

Poole Harbour © I Julian
Events

With events running all over Dorset at our various centres, there is something for everyone. 

Why not car share? Find a car share partner at Carshare Dorset and find events here.
Keep in touch with us and record your wildlife sightings.
Make a donation!
The Great Heath Partnership

The Great Heath partnership, led by Dorset Wildlife Trust, involves Amphibian and Reptile Conservation, The Erica Trust, Borough of Poole, Poole Harbour Commissioners, Dorset County Council, Christchurch and East Dorset Councils and Bournemouth Borough Council. 

The Great Heath Living Landscape has been made possible thanks to the National Lottery players and the Heritage Lottery Fund, along with the generous support of the Erica Trust, Colin Panter, Natural England, the Brockington Legacy, The Fine Foundation, Dorset Wildlife Trust members and the local community, especially our many volunteers.