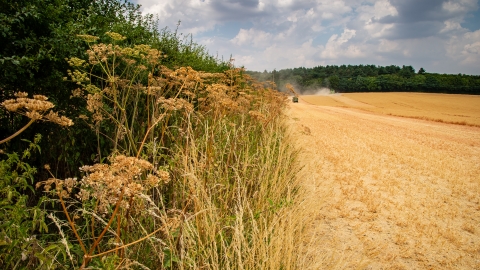 Farmland can conjure up rural images of brown hares zig-zagging across fields, chattering flocks of finches and yellowhammers singing from thick, bushy hedges and field margins studded with wildflowers.
Millenia of farming
Humans have been farming in the UK for at least 6,500 years. Traditionally grazed habitats, such as heathland and grassland, may have already existed in forest clearings, exposed hill tops and coastal headlands. Others, such as arable fields, hedgerows and orchards, were created by people. Farmed land may not be as 'natural' as ancient woodland, but its importance for wildlife should not be understated.
Over the millennia, wildlife has moved into farmland to make the most of the habitat it offered. An abundance of seed from crops suited birds like finches and buntings, while the regular disturbance of the soil helped plants make the most of open conditions. Hedgerows replicated habitat on the edge of woodland, providing a combination of shelter, warmth and flowering plants. Old trees in orchards suited lichens and insects. Wildlife adapted and became reliant on the way we used the land.
Farmland covers around 70% of the UK. Our wildlife cannot survive in the remaining 30% alone.
Yet rapid changes in consumer tastes, growing urban populations and a dramatic decline in traditional farming methods in the mid-20th century have had a devastating impact on the wildlife that depends on farmland. According to the State of Nature report, 60% of farmland species are now in decline. Dependence on chemicals, a switch to winter wheat (meaning no seed-rich stubble is left overwinter), the destruction of hedgerows and the loss of untidy field corners and ponds, have degraded or destroyed the homes of a huge range of animals.
These changes have also impacted on the wider landscape. Once spaces were connected by hedges and patches of woodland and grassland, but with many of these gone wild spaces like nature reserves have become isolated. This has put more pressure on species that can no longer move freely across the landscape to feed and breed.
Hope in a bleak landscape
The picture is admittedly challenging. Huge expanses of modern farmland are drenched in chemicals and fertilizers that get into waterways and the surrounding land. But there are alternatives. Many farmers care about wildlife and run farms with wildlife conservation in mind (often supported by agri-environment payments). We need to support farmers that do this.
Community-supported agriculture (where consumers are closely linked to a farm and their food) has also emerged as a way of reconnecting people with the land. Some farms are managed to show how agriculture and wildlife can still co-exist happily. For example, on Lower Smite Farm, Worcestershire Wildlife Trust uses sensitive farming techniques. This includes growing a wide range of crop types, which provides wildlife with food and habitat throughout the year.
On such farms, new hedgerows have been planted and old ones brought back to life. The use of chemicals has been eliminated or reduced, and conservation headlands or margins are left in fields for the benefit of plants, farmland birds, beetles and other insects. Farmland covers around 70% of the UK. Our wildlife cannot survive in the remaining 30% alone. Wildlife-friendly farming needs to become mainstream.
How you can help
Across the UK, The Wildlife Trusts are working with landowners to ensure that farmland is managed in the best way for wildlife, while still providing a living to those who work the land. Many Wildlife Trusts provide guidance for farmers and landowners on wildlife-friendly measures and the supporting schemes offered by governments and assemblies.
Many Wildlife Trusts also own or manage areas of farmland themselves. This benefits the livestock which is needed to manage other habitats and helps local wildlife. You can help support this work by joining the Wildlife Trust where you live.
Be curious about your food. If you live in the countryside or visit farmers' markets, talk to farmers about what they do for wildlife. If you like what you hear, support them by buying their produce and telling others. If you want to get stuck in yourself, join community supported agricultural schemes. You can also become involved in your local community orchard. Add your voice to those calling for sustainable agriculture.