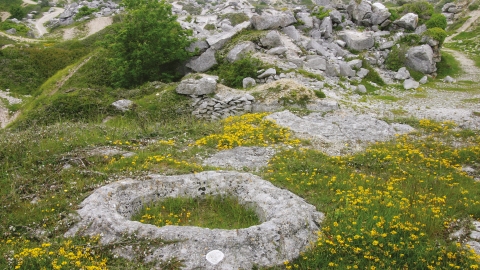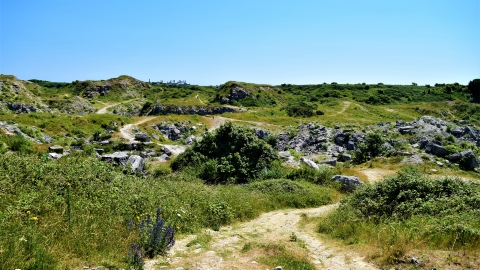 Site of former stone quarries abandoned 100 years ago.
Know before you go
Dogs
Please remove all dog mess from site. See above for more information about dogs on nature reserves.
When to visit
Opening times
Open at all times
Best time to visit
Late spring & summer
About the reserve
High up on the windswept crown of the Isle of Portland, the King Barrow, or Kingsbarrow, quarries have been steadily transformed into a wildlife haven. Here the once stark landscape and worked rock faces of Portland stone and the quarry floor have been regenerated naturally to provide pockets of warm, sheltered, open grassland and patches of bare rock and scree. Last worked over 100 years ago, these former quarries are now sprinkled with the vibrant yellows and soft green of plants such as horseshoe vetch, kidney vetch and Portland feather-moss. Other wildlfowers, including black knapweed, provide a pleasant contrast with the scattered white-grey of stone. Butterfly species you may see flitting amid the flowers and stones include chalkhill blue, silver-studded blue and marbled white. Patches of native scrub come alive with the scratchy songs of whitethroats in spring and summer.
The regeneration of the habitat has been achieved by the management of invasive, non-native scrub species such as cotoneaster and buddleia, undertaken across the Portland Quarries as part of a Viridor funded partnership. See our Portland Living Landscape project pages for before and after shots documenting the return of wildflowers to King Barrow and an aerial fly-through of the sites.
In addition to the resident wildlife, King Barrow offers spectacular views of the Dorset mainland, Chesil Beach & the Fleet lagoon. From this vantage point you can also see the nearby Fine Foundation Chesil Beach Centre, where you can visit and discover all about the beach and its wildlife.
Useful Information
On the Isle of Portland take the A354, climb the hill and go straight over the roundabout. Just after this look for a turning off to the left with roadside parking, or parking in a small parking area just off Yeates Road. The entrance to the reserve is marked by a finger post just off this road. Use the 'Get directions' link to see bus and cycle routes.
Habitat
Environmental designation
Site of Special Scientific Interest (SSSI)