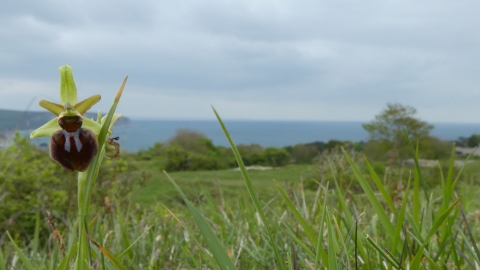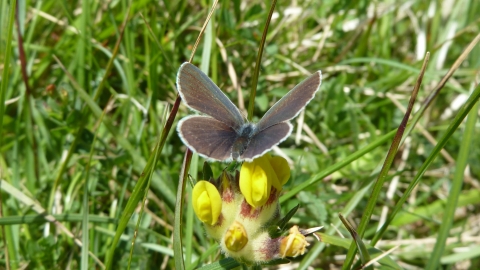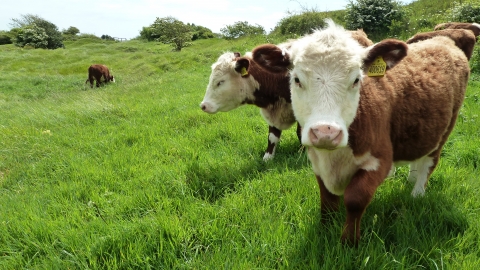 Rare limestone grassland on the site of an old quarry
Know before you go
Entry fee
N/A
Parking information
Roadside parking for 3 or 4 cars
Bicycle parking
Yes
Grazing animals
Cattle grazing spring/ summer.
Pony grazing all year round.

Access
Unsurfaced but short grassy paths, access through kissing gate at main entry point giving some level access to central part of reserve but elsewhere moderate sloping and, in parts, uneven ground. Pedestrian gates at other entrances.
Although the ground provides fairly easy walking on short grassy paths across the site, the history of quarrying means that there are numerous undulations and some steeper slopes. Old quarry pits may be hidden in scrubby areas though the formal quarry shafts are fenced out. Several sections of dry stone wall have recently been restored on the site - please refrain from climbing or sitting on the walls which are held together by gravity alone. The yellow umbellifer, wild parsnip grows well on this site - contact with bare skin should be avoided as this plant can cause a phototoxic reaction. Sadly dog faeces has become a problem on this nature reserve so please check the ground before sitting or getting down low to look at any plants or animals.
Cattle graze the site throughout the summer with ponies all year round. For more information on these general countryside hazards and other aspects of visiting our nature reserves please see our visitor information page.
Dogs
On a lead
Please remove all dog mess from site. See above for more information about dogs on nature reserves.
When to visit
Opening times
Open at all times
Best time to visit
Spring & summer
About the reserve
Home to the beautiful early spider-orchid that gives DWT its logo, this urban fringe site is surprisingly full of rare wildflowers. An area of calcareous grassland set high above Swanage Bay on the site of old limestone quarries, spring and summer flowers include early gentian, bastard-toadflax and yellow-rattle, whilst great green bush crickets, long-winged cone heads and yellow meadow ants are among the insects to be found.
The site boasts a good display of orchids in most years, with up to seven species flowering on the reserve throughout the season. The shortest areas of grassland support diminutive versions of some of our more interesting limestone grassland plants, easy to miss without getting down close to look. A number of these low growing plants in turn support some of the rarer butterflies to be found, such as small and Adonis blue. Elsewhere, the mixed scrub and longer grass provides important cover and food source for migrating birds and a host of invertebrates.
The nature reserve is managed by grazing with both cattle and ponies to create a mosaic of longer and shorter grass and to prevent the scrub from invading the open areas. We are currently also removing most of the non-native buddleia and cotoneaster which threatened to smother this internationally important grassland.
Useful Information
Coming into Swanage on the A351, take the first right on the bend. Pass the Spar shop on your left, then take the first right up the hill. Turn left at the top, then next right onto Panorama road. Follow the road round the bend and up the hill, the reserve is on the left hand side. Roadside parking in a layby 2/3 up the hill. Easy walking distance from Swanage town centre - follow Townsend Road from High Street to reach the eastern entrance - with footpath links to Durlston Country Park and towards Worth Matravers to the west.
Habitat
Environmental designation
Site of Special Scientific Interest (SSSI)