Dorset Wildlife Trust cruise ship anchoring report reveals seabed damage
A report carried out by Dorset Wildlife Trust earlier this year has revealed the impact of large cruise ships mooring for long periods off the coast of Dorset due to Covid-19.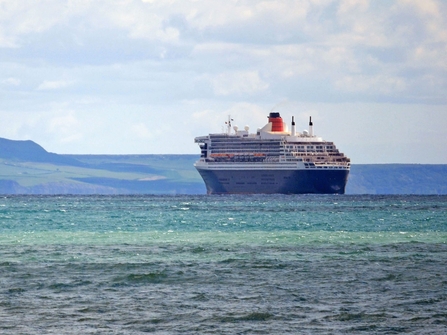 In January 2021, Dorset Wildlife Trust commissioned remote sensing surveys in Weymouth Bay and Poole Bay, with funding from Natural England, to understand and document the impact of large vessel anchoring on seabed features and Marine Protected Areas. These surveys found that ships' anchors had created large deep grooves, or scars, in the seabed, radiating around anchoring points as the large ships pulled the anchors along the seabed in changing weather and tides. These scars, measuring over half a metre deep in places, had transformed the seabed and the study found that at least one sensitive habitat, Sabellaria spinulosa reef, is at risk. 
Since March 2020, a number of large cruise ships have been anchored in Poole Bay and Weymouth Bay. On 20 October, 23 cruise ships were visible in the English Channel, 15 of which were at anchor on the south coast and one in port in Southampton. These include some of the largest cruise ships in the world, such as the Allure of the Seas, at 360m length, a gross tonnage of 225,282t and capable of carrying over 6000 passengers.
Speaking about the reports, Peter Tinsley, Marine Policy & Evidence Manager, Dorset Wildlife Trust, said: "After concerns were raised to us about the number of large cruise ships anchoring in and near Dorset's marine protected areas, Dorset Wildlife Trust organised surveys that showed the impacts on the seabed can be considerable. Where anchoring has occurred in protected areas this potentially can harm delicate reefs and other sensitive habitats. Whilst the ships have usually responded to requests to move, we found that often they were not aware of the zones that they should be avoiding. 
"Ideally, such large vessels would keep to designated anchorages, but there is not enough space for the current demand. The most sensitive seabed features – and those could be archaeological, as well as ecological - should be protected. That requires a byelaw to provide the legal protection and for the features to be identifiable on navigational charts."
This report was produced by Dorset Wildlife Trust using acoustic data from survey work funded by Natural England, and has recently been covered by several national news outlets including the BBC and The Times newspaper.