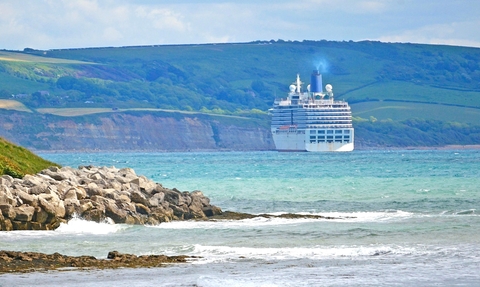 Help protect Dorset's marine life
Will you help protect wildlife on the Dorset coast from the devastating impacts of climate change, pollution and disturbance?
Dorset is one of the most important places in the UK for marine wildlife. Marine giants like sharks, dolphins and seals can all be seen in Dorset, along
with rare visitors like leatherback turtles and even the occasional humpback whale. A rich tapestry of underwater habitats - seagrass meadows, kelp forests and rocky reefs - support  marine life including seahorses, pink sea fans and peacock's tail seaweed.
Sadly, Dorset marine life is in trouble. Nationally, overexploitation, pollution and development have resulted in a depleted marine environment in desperate need of recovery. Our incredible marine wildlife needs your help now: it is under pressure like never before in this climate and ecological emergency.
How your donation makes a difference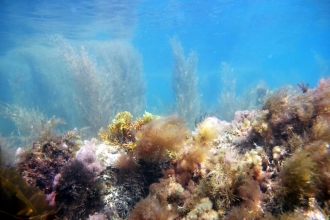 £25
could fund a volunteer's training in species identification and survey techniques for vital monitoring work.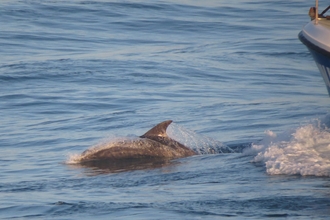 £50
could fund 5 equipment kits for marine champions to capture essential seashore survey data.
Act now to bring our seas back to life
You can help bring our Dorset seas back to life. Your support is needed to train and equip volunteers to carry out vital survey work monitoring the effects of climate change and invasive species in Dorset. Your gift can provide equipment to help remove deadly marine litter from the Dorset coastline. You can fund education and interpretation to help inspire people of all ages and backgrounds; and help monitor and raise awareness about wildlife disturbance and pollution.
We urgently need to raise £20,000 so that your Dorset Wildlife Trust team of marine experts can gather vital information needed to influence future policies and decisions. We must train volunteers in new survey techniques, buy equipment and develop materials to engage with a whole new set of marine champions.
There has never been a more critical time for the future of our seas.
Damaging impacts on our marine wildlife
Physical disturbance

Cruise ship, Dorset - James Burland

Cruise ships have dropped massive anchors regularly during Covid-19 restrictions. Carrying out seabed surveys, engagement with relevant authorities and cruise ship companies will reveal their impact on marine life. 

Cruise ships anchored off the Dorset Coast have caused extensive damage to the seabed. Large anchors and long heavy chains, regularly dropped when the ships are at anchor, have dragged across the sea floor creating huge 'scars' across important marine habitats. At one location there is a scar covering six hectares caused by a ship swinging around on its anchor in the tide and currents. Elsewhere, a number of deep grooves, up to 60cm deep and 5m wide were found, with some damage being inside Marine Protected Areas. Dorset Wildlife Trust carried out sonar scans after more than 70 arrivals and departures of cruise ships were recorded. 

Help fund more urgent research into the anchor damage caused by the cruise ships, so that Dorset Wildlife Trust can engage with the relevant authorities and cruise ship companies to identify the impact that they have had on the marine environment in Dorset and better manage this activity going forward. 
Wildlife disturbance

To tackle direct disturbance of dolphins and seals, we need funds to step up engagement and education work, sharing codes of conduct with a wide audience. 

Dorset's marine and coastal wildlife is spectacular, and we want to keep it that way. Sadly, we are seeing an increase in reports of marine wildlife disturbance. Interactions with people can change the behaviour of an animal and their environment, which can affect their well-being, ability to reproduce and even survival. 

Your donation could help monitor this increase in pressure from human activity and help step up our engagement and education work, producing and sharing codes of conduct with a wide audience, and making sure people can continue to enjoy marine wildlife without damaging or disturbing it. 
Climate change

Species are moving and/or declining on our coast due to climate change – for example, the furrowed crab is extending eastwards along the Channel. Shoresearch surveys can help us learn about and understand these patterns. 

There are many threats to our seas and oceans including overfishing, habitat loss and marine pollution. The ocean is disproportionately impacted by rising CO2 emissions – as well as warming seas, this causes changes in ocean chemistry (ocean acidification), increased storminess, rising sea-levels and changes in ocean circulation. Dorset Wildlife Trust has been recording changes in the diversity, distribution and abundance of marine wildlife in Dorset over the last two decades. 

Marine animals and seaweed particularly sensitive to warming seas, known as climate change indicator species, can be monitored as they increase or decrease in abundance as seawater temperatures rise over the next decade and century. Warmer water species are increasingly becoming a feature of our coastline in Dorset, and we are starting to see new fascinating creatures around our coast, but the consequence for our local wildlife is unclear. 

Your donation could fund important survey work to help monitor these changes, so that we can better understand what is happening around our Dorset coastline, informing decisions about how to protect local marine life. 
Plastic pollution

After restrictions eased in 2020, we witnessed an unprecedented amount of litter and rubbish on our shores, causing an immediate threat to the wildlife there. Human impact surveys, public engagement and beach cleans can all help mitigate this. 

It is estimated that about 8 million tonnes of plastic end up in the world's seas and oceans every year. With a new surge in Covid-19 related pollution this figure is likely to have only got worse. In the UK alone, tens of thousands of extra tonnes of plastic waste could be generated by disposable face coverings alone. This new kind of plastic pollution, like all marine litter, is a real threat to our wildlife and the health of our seas. 

Marine litter can be deadly to wildlife through entanglement and ingestion causing starvation, drowning and suffocation. Your donation could provide vital equipment, training and help organise local beach cleans to remove this deadly litter from Dorset beaches. It could also support our education and engagement work to raise awareness about the impacts of marine litter on wildlife and how to reduce it. 
 
Marine invaders

Marine non-native species include any living organisms that have been transported outside of their natural range, usually by human activities, either intentionally or accidentally.

When an 'alien' species arrives in a new location they can die because the new area isn't suitable; they can survive with little environmental impact; or they can thrive taking over and harming the natural wildlife. Invasive species are a huge threat to biodiversity because they can feed on native species, compete with them for space or food, or introduce new diseases. 

Slipper limpets are now common sights in Dorset, but they didn't arrive in the UK until the late 19th century, when they were accidentally introduced from North America in a shipment of oysters. They are now considered a widespread pest of oyster and mussel beds. Wire weed, another marine invasive can now be commonly found in Dorset but it first appeared in the UK at the Isle of Wight in 1973 having spread from France. More recently the Asian shore crab has been spotted in Dorset, only the third ever sighting in the UK, first appearing in 2014. This aggressive crab could outcompete and displace our native crabs and affect our native shellfish. 

Your donation could help fund urgent survey work to monitor invasive species in Dorset and monitor their impact on our native wildlife. 
Bring our seas back to life