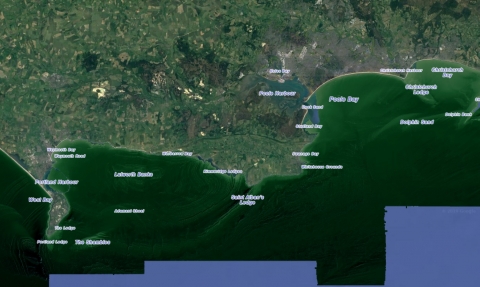 Mapping the seabed with DORIS
Meet DORIS - the DORset Integrated Seabed study
One of the great problems we face in trying to protect marine wildlife is the fact that most of it is effectively hidden by the sea – making it difficult to know what is where and, especially important, what condition it is in.  DORIS changed all of that.
DORIS (DORset Integrated Seabed study) was a collaborative project between Dorset Wildlife Trust, Maritime and Coastguard Agency, Channel Coastal Observatory and National Oceanographic Centre, Southampton and was funded through a major award from Viridor Credits.  Each of these organisations had the funding and intention to carry out multibeam survey work in Dorset and, without DORIS, could easily have unknowingly surveyed the same areas of seabed several times. 
Phase One

A widespread, high resolution multibeam echo-sounder survey provided unprecedented detail of physical features on the seabed – mapping ledges, cliffs, gravel dunes, shipwrecks and even individual large boulders, right up to the shoreline.  This is the closest we will get to an aerial photo layer of seabed habitats.  While this shows some physical features very distinctly – rock ledges, cliffs, sand/gravel waves; it doesn't reveal specific habitats, especially in areas with a covering of sediment – so some sort of ground-truthing is necessary.
Phase Two

The multibeam survey was therefore followed up with an extensive drop-camera survey, targeting specific features, that brought back thousands of photos and many hours of video.  Together with the records and images from Seasearch divers, this gives us valuable and reliable evidence to campaign for protection and some amazing content to engage people with a largely inaccessible environment.  You can investigate any of the 3000+ seabed photos by clicking on the camera icons in the map below
Benefits

DORIS was very timely.  It provided useful evidence used to refine the boundaries of the Studland to Portland Special Area of Conservation and informed the inclusion of Stennis Ledges in the Chesil Beach and Stennis Ledges Marine Conservation Zone.   Several of the third tranche of Marine Conservation Zones proposals are backed by DORIS evidence.   
Read more on Dorset's Marine Protected Areas here.
Find out more

Swim through the undersea landscapes of Weymouth and Portland including the recommended South of Portland Marine Conservation Zone (MCZ). Using the data gathered through the DorIS project, this animation features the 20m high cliffs that mirror those of West Portland and the Portland Deep - a fascinating geological feature reaching depths of 108m! What marine species can you spot?
Try DORIS for yourself

You can read a report about the legacy of DORIS below, and you can see pictures and video here. (You will need to log in using the Username DORIS; password doris123 )





map
Seabed Imagery © Dorset Wildlife Trust Contains MCA data © Crown copyright Not to be used for navigation