Making space for wildlife in Dorset
In a bid to tackle the ecological and climate crises, Dorset Wildlife Trust has acquired a large area of land near Bere Regis, now called Wild Woodbury. Around 420 acres (170 hectares) in total, the Wild Woodbury project will showcase sustainable change in land use. It will give Dorset's wildlife much-needed room to spread and regenerate and give the community new space to reconnect with nature, while reducing net nitrates in Poole Harbour. You can support this project at ground level, as conservationists begin monitoring wildlife activity and we secure and protect the site.
We are grateful for the support of Julia Davies, founder of We Have the POWER who helped to acquire this site in September 2021 through her Funding Nature Project and is currently working with The Wildlife Trusts to develop the philanthropic lending concept. Find out more about philanthropic loans and Julia's story here
FAQ
Why did you buy this land?

There were three key reasons for purchasing this land. First is tackling the ecological crisis. The Wildlife Trusts want to see 30% of land being managed in a way which is beneficial to nature in the UK by 2030. This means some currently nature-poor areas need to be restored to allow nature space to rebound and spread.  

Second is tackling the climate crisis. Restoring nature increases the amount of carbon held in healthy soils, new woodlands and wetlands and reduces outputs of harmful greenhouse gases.   

Third, we aim to help local communities better connect with nature on their doorstep. More of us than ever are disconnected from the natural world but connection to nature has huge benefits for mental and physical wellbeing. This site will provide vital space and new opportunities to engage the public with the natural world. Dorset Wildlife Trust is already involving the local community with planning for the site's future, to ensure their voices are heard and they receive real community benefits. 
What are the plans for the site?

In this first year, the priority is to undertake soil, water and archaeological surveys, monitor wildlife, collect data and consult with the local community to inform our full plans for the site. We want to help nature recover in Dorset, enable people to benefit from contact with nature and experience wilder places and demonstrate how natural systems can help reduce problems such as pollution, flooding and loss of soil carbon.  
What's there now?

Previously intensively farmed, the site was predominantly arable with some pasture, some deciduous woodland and small areas of scrubland. There is a network of public footpaths across the site. Monitoring is getting underway on site to find out what wildlife is present. The bright and beautiful yellowhammer is a rare bird species that we already know can be found there. 

Yellowhammer - Janet Packham
Can I go and see it?

There are some rights of way across the land that are open to anyone, but there is currently no parking available. For the first year, we are not encouraging people to visit as there won't be appropriate facilities or very much to see or do. We will be spending this time monitoring the site and consulting with residents and local organisations to understand how the site can best benefit wildlife and the local community. If you are visiting the area, please stick to footpaths and take the opportunity to support local businesses in Bere Regis.
What are your plans for community engagement?

This project is exciting for several reasons and one of those is its location, within walking distance of a vibrant community. We are consulting with local residents and organisations while we develop our plans. We really want this site to be co-created with input from local residents.
How has the acquisition been funded?

Julia Davies , environmental campaigner and founder of We Have The POWER played a major role in making the acquisition possible, by initiating and negotiating the purchase on behalf of Dorset Wildlife Trust, giving us time to secure funds. Find out more about her Funding Nature Project.

We are very grateful to have received funding from both BCP and Dorset Councils for this project, to mitigate the impacts of increases in nitrates due to new housing development in the Poole Harbour catchment.   

Funding has also been contributed from the generous support of Dorset Wildlife Trust supporters who have donated to the project and those who have left money in their wills to support the purchase of land.
Why are nitrates such a problem?

High levels of nitrates in our waterways cause algal blooms which can kill ecosystems and have a devastating effect on the wider food chain. Nitrates predominantly come from fertiliser and manure that has been used in agriculture and then washed into waterways and, to a lesser extent, treated sewage. The high levels of these nutrients flowing into Poole Harbour mean that any new input, such as from new houses, has to be balanced by reductions in the same catchment. By taking this land out of intensive farming, the levels of nitrates will be reduced over time.
Sign up for our e-newsletter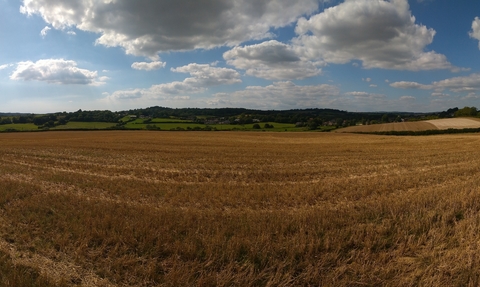 Wild Woodbury Appeal
Give wildlife more space to thrive and help create a wilder Dorset by donating today