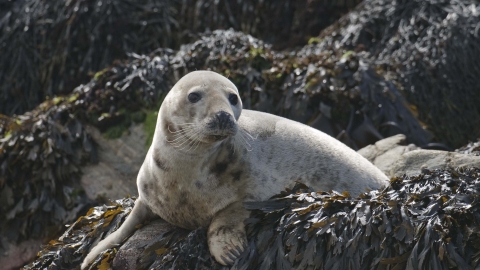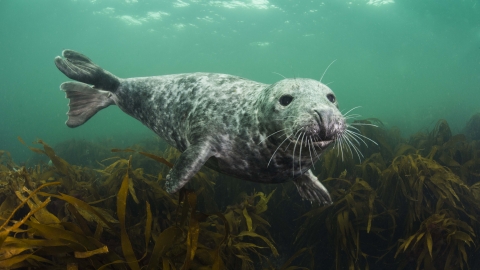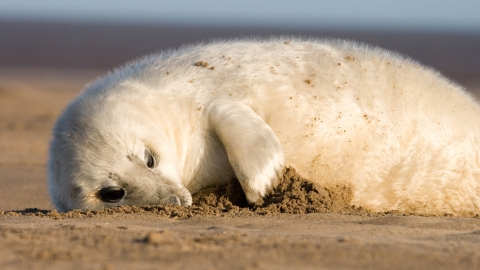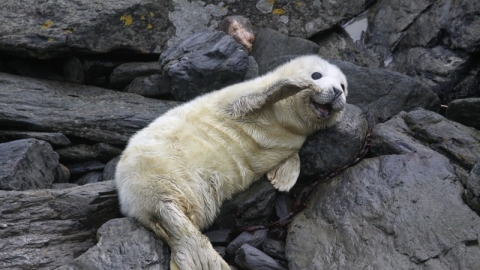 Grey seal
Scientific name:
Halichoerus grypus
Have you ever seen the curious face of a grey seal bobbing in the waves when visiting the beach? Grey seals can be seen lying on beaches waiting for their food to go down. Sometimes they are accompanied by their white fluffy seal pups that look like balls of cotton wool!
Species information
Category
Statistics
Length: up to 2.6m Weight: Males up to 300kg, females up to 200kg. Average Lifespan: 30-40 years
Conservation status
Protected in Britain under the Conservation of Seals Act 1970. Also protected under the Wildlife (Northern Ireland) Order 1985 and the Marine (Scotland) Act 2010.
When to see
January to December
About
The grey seal is the larger of the two UK seal species. If you catch a good look at them you'll see how they got their scientific name Halichoerus grypus – it means hook-nosed sea pig! These mammals spend most of their time out at sea feeding on fish. They return to land to rest and can often be seen 'hauled out', lying on British beaches. Grey seals give birth to fluffy white pups in the autumn. These adorable pups stay on land until they have lost their white coats and trebled their body weight.
How to identify
The grey seal can be distinguished from the common seal by its larger size and longer head with a sloping 'roman nose' profile. Looking straight on, their nostrils are parallel, rather than v-shaped as in common seals. Mainly grey in colour, the unique pattern of darker blotches and spots can be used to identify individuals.
In our area
Both grey seals and common or harbour seals can be spotted in Dorset.
Grey seals have been recorded all along the Dorset coast from Lyme Regis to Christchurch although there have been more sightings off the Purbeck coast and at Portland Bill.  Whilst most Grey seals have only been recorded once in Dorset, our photo identification catalogue has revealed that a few individuals are regular visitors. 
Recording your sighting of a Dorset seal
If you spot a seal your information and photos can help us get a better understanding of seals in Dorset such as how many are seen, how frequently and their location.  Photos can be compared or added to our Dorset seal photo identification catalogue which allows us to identify individuals and is helping us learn whether seals are returning to the same areas and if any are resident here. We can also share this photo ID catalogue with other recorders to help us learn more about seal movements over a larger area.
Please let us know if you spot a seal in Dorset. You can report your sighting and submit photos using our online reporting form we also have a seal identification guide that you may find useful.
Alternatively, you can let us know by email: Kimmeridge@dorsetwildlifetrust.org.uk 
Remember, seals are wild animals. Keep your distance or remain out of sight to prevent distress. Download our Code of Conduct for more information. For any welfare concerns please check with British Divers Marine Life Rescue.
Distribution
Found all around the UK.
Did you know?
Despite numbers dropping to only 500 in the early 20th century, it's estimated that there are now more than 120,000 grey seals in Britain, representing 40% of the world's population and 95% of the European population.