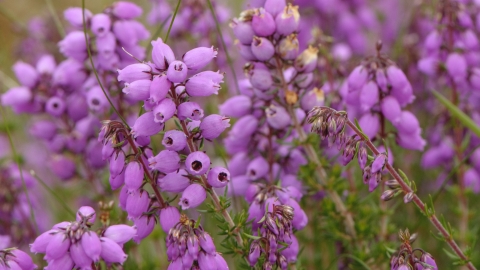 Bell heather
Scientific name:
Erica cinerea
Bell heather is our most familiar heather. In summer, it carpets our heaths, woods and coasts with purple-pink flowers that attract all kinds of nectar-loving insects.
Species information
Category
Statistics
Height: up to 50cm
Conservation status
Common.
When to see
January to December
About
Bell heather is found in a variety of habitats, including heathland, open woodland and even coastal areas. It particularly likes acidic, dry, well-drained soils. The dark purple-pink, bell-shaped flowers appear between July and September, carpeting heathlands and bringing them to life with the buzzing of nectar-loving bees and insects. Bell Heather makes a great garden plant, too.
How to identify
Bell heather is very distinctive: its dark purple-pink, bell-shaped flowers form clusters up the stem, and its short, dark green, needle-like leaves sit in whorls of three. It is similar to Cross-leaved Heath, but its flowers are smaller and do not cluster on one side of the stem.
Distribution
Widespread throughout the UK, but scarce in the East Midlands.
Habitats
Did you know?
Bell Heather is an important nectar source for all kinds of insects, including Honeybees, Buff-tailed and Red-tailed bumblebees, Ruby tiger moths and rare silver-studded blue butterflies. The honey that results from bees that feed on heather is dark and fragrant, and very popular.
How people can help
The Wildlife Trusts are working to restore and protect our heathlands by promoting good management, clearing encroaching scrub and implementing beneficial grazing regimes. This work is vital if these habitats are to survive; you can help by supporting your local Wildlife Trust and becoming a member or volunteer.