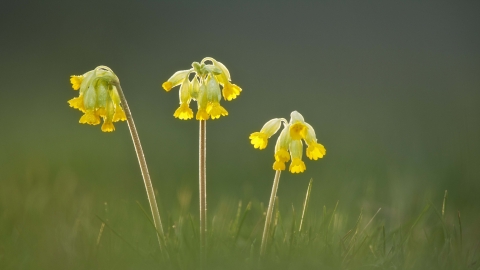 Cowslip
Scientific name:
Primula veris
One of our most familiar spring flowers, the cowslip brightens up ancient meadows and woodlands with its egg-yolk-yellow, nodding blooms.
Species information
Category
Statistics
Height: up to 25cm
Conservation status
Protected in Northern Ireland under the Wildlife Order, 1985.
When to see
April to May
About
The cowslip is a cousin of the primrose and is also an early spring flower. Formerly a common plant of traditional hay meadows, ancient woodlands and hedgerows, the loss of these habitats has caused a serious decline in its populations and now fields coloured bright yellow with its nodding heads are a rare sight.
Like many other spring flowers, the cowslip is closely associated with English folklore and tradition, including adorning garlands for May Day and being strewn on church paths for weddings.
How to identify
The cowslip displays a rosette of green, crinkly, tongue-like leaves, low to the ground. Its tube-like, egg-yolk-yellow flowers are clustered together at the ends of its upright, green stems.
Distribution
Widespread in England, Wales and Northern Ireland.
Habitats
Did you know?
The cowslip has many folk names due to its historical importance and fame, including 'key of heaven', 'paigles', 'bunch of keys' and 'herb Peter'. The name cowslip actually means 'cow-slop' (i.e. cowpat), in reference to its choice of meadow habitat. The cowslip is the county flower for Essex, Northamptonshire, Surrey and Worcestershire.

The Wildlife Trusts manage many grassland and woodland habitats sympathetically for the benefit of all kinds of wildlife. Careful grazing with traditional breeds, hay-cutting at the right time, scrub clearance and coppicing are just some of the ways grasslands and woodlands are kept in good condition.