"We are witnessing the largest extinction event on Earth since the dinosaurs"
Insects are dying out up to 8 times faster than larger animals and 41% of insect species face extinction. 
This is a grave cause for concern - it impacts us all as well as all wildlife.Insects pollinate a third of our food crops, as well as being the main food source of many birds, small mammals and fish.
Loss of their habitat and overuse of pesticides are two of the major causes of this looming catastrophe. However, the good news is that it's not too late to act.
Insect populations can recover, and we know what needs to be done to save them.
Take Action for Insects and help tackle this crisis.
By working together we can change the future of insects, starting right now, you can help by taking our pledge to take two simple actions in your home or outside space that will make a difference.
Insect declines and why they matter - Read the report here and discover why we need to take action now.
Two actions that will make a real difference
1. STOP killing insects by reducing your use of harmful chemicals at home
2. START to create 'Bug Hubs'
Please help by making a pledge to Take Action For Insects today. When you sign up we will provide you with two free Action Guides to help you go chemical free in your garden and make your garden a haven for wildlife.
I pledge to Take Action for Insects
Why should we care?
Without insects many birds, bats, reptiles, amphibians, small mammals and fish would die out as they would have nothing to eat.
87% of all plant species require animal pollination, most of it delivered by insects - that is pretty much all of them except grasses and conifers.
In addition, 3 out of 4 of all crops that we grow require pollination by insects.
Only by working together can we address the causes of insect loss, halt and reverse them, and secure a sustainable future for insect life and for ourselves.
Together, we can stop this looming catastrophe and create an environment that is rich in nature for the benefit of wildlife and people.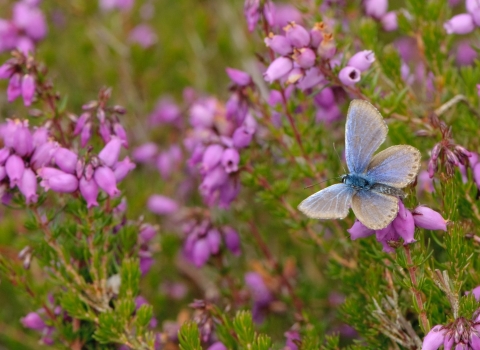 Make a difference today
The new Environment Act calls for the creation of Nature Recovery Networks to be enshrined in law so that nature has more wild spaces that are bigger and better connected. By making 'Bug Hubs' in your garden to attract insects, your wild patch will become part of the bigger picture - a connected natural world where all wildlife can thrive. 
Find out about a Wilder Future
What is a Nature Recovery Network? Sir David Attenborough explains...