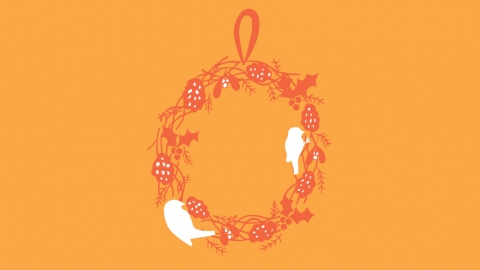 How to make a Christmas wreath for birds
With food, water and shelter scarce over the winter months, give your garden birds a treat with an edible Christmas wreath.
As the days get colder and snow starts to fall, our garden and countryside birds can struggle to find enough food and fresh water naturally. Providing bird food and clean water in the garden is an important way to help our feathered friends over winter. And it will also give you the chance to see these creatures up close and personal, including some species, such as waxwings, that are only around in the winter months.
You will need:
Pines cones
Long twigs
Garden wire
Soft lard
Mixing bowl
Holly and other leaves
Bird seed, breadcrumbs and grated cheese
Dried fruits or unsalted nuts
Helping out our little feathered friends will give you the chance to see these creatures up close – including some species only around in the winter months
Making your Christmas bird wreath:
Twist together bundles of long twigs and fasten with wire into a ring.
Squish lard into a soft paste in a bowl.
Mix in bird seed, breadcrumbs or grated cheese.
Smear over pine cones and decorate with dried fruits and nuts.
Attach the cones to the ring with twisted wire.
Decorate with festive greenery and hang up your wreath! 
Remember!
Keep birdfeeders and bird baths clean to prevent disease and parasites spreading. Keep bird food and tidbits, like your new wreath, topped up over the winter months – a constant supply will bring a steady stream of visitors!