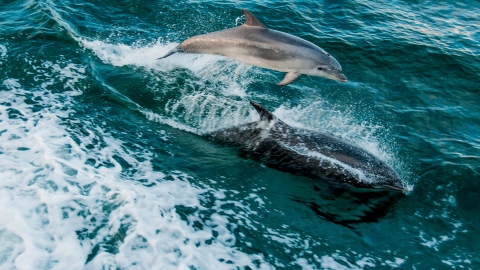 Dolphin Watch
Location:
Kimmeridge Bay, Kimmeridge,
(Drive through village to toll booth.),
Kimmeridge,
Dorset ,
BH20 5PF
Learn about dolphins in Dorset and how to spot them then help with our cliff-top watch at Kimmeridge.
About the event
We'll be celebrating World Oceans Day with a dolphin watch at Kimmeridge. Join us and experts from MARINElife to learn about the different species of whale and dolphin that can be seen in Dorset. what signs to look for, how to spot and identify them. There will be skulls and bones from a variety of dolphins and whales to see and handle, along with information about how they feed, where they live, what threats they face and what actions we can take to protect them. The talk is from 11am until 12pm, then we'll head up onto the cliffs above Kimmeridge Bay to watch for dolphins from 12pm to 4pm.
Booking
Price
The dolphin watch is free (donations welcome) and you can drop in at any time and stay as long as you like. We will have some binoculars available to borrow but bring your own if you have them. Please be aware that access to Kimmeridge Bay is via a private road for which a toll of £5 per car is charged by Smedmore Estate (charges vary for other types of vehicle).
Suggested donation
£5 donation.
Additional booking information
To book your space for the talk please contact us via email at: kimmeridge@dorsetwildlifetrust.org.uk or phone 01929 481044.
Know before you go
What to bring
Access to the lookout is up very steep and sometimes slippery steps and the cliffs are high with no fence so sturdy shoes are essential. Our lookout area is set back from the cliff edge but is not suitable for young children and dogs. All children must be
Parking information
Park in the main car park and follow the footpath to the east side of the bay.