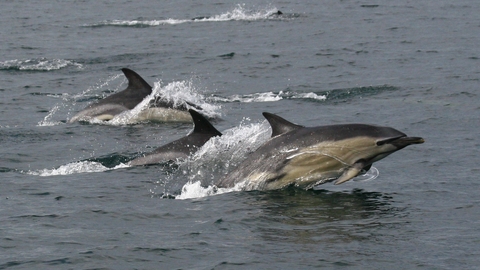 Dolphin Watch
Location:
Kimmeridge Bay, Kimmeridge,
(Drive through village to toll booth.),
Kimmeridge,
Dorset ,
BH20 5PE
Help with our cliff-top watch at Kimmeridge and learn about dolphins in Dorset and how to spot them.

About the event
Join us at Kimmeridge for a cliff-top watch looking for dolphins. Learn about the different species in Dorset and get tips on how to spot them.
There will also be a display about dolphins in the Wild Seas Centre with information about how they feed, where they live, what threats they face and what actions we can take to protect them.
The dolphin watch is free (donations welcome) but booking is essential.  Once you have booked you can drop in and stay as long as you like. Please bring your own binoculars if you have them. 
 
Booking
Price
FREE, donations welcome.

Booking is essential. Contact the Wild Seas Centre on 01929 481044.

Please be aware that access to Kimmeridge Bay is via a private road for which a toll of £6 per car is charged by the Smedmore Estate (charges vary for other types of vehicle). Park in the main car park and follow the footpath to the east side of the bay. The Wild Seas Centre is located by the slipway.

Suggested donation
FREE, donations welcome.

Additional booking information
Safety Information

At this very difficult time, we want to reassure you that we are doing all we can to protect your health, our visitors and our colleagues. This is always our top priority and will continue to be so.

What you can expect from us:

*All activities are currently only taking place outside.

*Booking is essential, as there are limited spaces.

*Bookings can only be made up to, and including, the day before an event. We are unable to take any bookings on the day.

*When you arrive, you will be greeted by a member of our team outside.

*There will be a health and safety talk at the beginning of the activity which will cover the event and current covid-19 safety information.

*Face coverings are not required outside but may be worn if preferred.

*There are one-way systems in place inside the centre.

*There are handwashing facilities in the public toilets, and we recommend that you bring your own hand sanitiser (at least 60% alcohol) for regular use.

*If we provide equipment, it will be cleaned down before and after use with virucidal spray. 

*Any bookings are based on current government advice and may be subject to change. 

What we ask of you:

*If you, a member of your family or group has any covid-19 symptoms including a cough, cold, temperature or have experienced an unexplained loss or change in sense of taste or smell please ensure they stay home and follow the government guidelines on self-isolation.

*Please arrive 10-15 minutes early, so that you can pay, and we can book you in.

*On the day, one member of your group will need to sign in using the NHS test and trace app.

*Only one person from a family or group comes inside the centre to pay before the activity starts.  We can only accept card payments.

*Please wear face coverings inside the centre.

*Please be mindful of others' space.  

*Children must be accompanied at all times.

*As spaces are limited, if you are booked onto an event, please inform us as soon as possible if you are not able to attend so that we can offer your place to somebody else. This helps us invest more in local wildlife conservation.

*Participants are advised not to touch their face, eyes, and mouth during the activity.

*Wash your hands after the event and especially before eating. 

*Please take any litter back with you to recycle or dispose of it in a bin.  

Thank you for helping to keep everyone safe!  


Know before you go
What to bring
Please bring your own binoculars.  Access to the lookout is up a very steep hill with steps that may become slippery.  The cliffs are high with no fence so sturdy shoes are essential. Our lookout area is set back from the cliff edge but is not suitable for young children and dogs. All children must be accompanied by an adult. 
Parking information
Please be aware that access to Kimmeridge Bay is via a private road for which a toll of £6 per car is charged by the Smedmore Estate (charges vary for other types of vehicle). Please see details above.