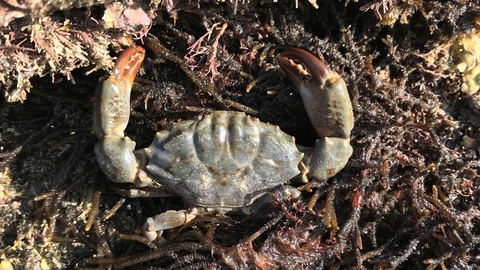 Eco crabbing at Kimmeridge
Location:
Kimmeridge Bay, Kimmeridge,
(Drive through village to toll booth.),
Kimmeridge,
Dorset ,
BH20 5PE
Try crabbing the eco-friendly way, without harm to wildlife.
About the event
Join us for eco-crabbing on the seashore in Kimmeridge Bay. Find out how to catch seashore crabs without harming them or the other marine life that lives with them, and learn how to look after your catch. Discover the different types of crab to be found at Kimmeridge as well as lots of fun crabby facts. All equipment will be provided.
BOOKING IS ESSENTIAL.
Booking
Price
£7 per child which includes a plastic-free crab line to keep. Accompanying adults free.
The event is carried out at the water's edge, and is not suitable for under 3 year olds.

All children must be supervised by an adult.
Additional booking information
Spaces are limited so booking is essential. Please call the Wild Seas Centre on 01929 481044 to reserve your place.
Know before you go
Dogs
See above for more information about dogs on nature reserves.
Contact us
Wild Seas Centre, Kimmeridge
Safety and Other Important Information
What you can expect from us:
Booking is essential, as there are limited spaces.
Bookings can only be made up to, and including, the day before an event. We are unable to take any bookings on the day. 
There will be a health and safety talk at the beginning of the activity.
Face coverings are not required outside but may be worn if preferred.
Handwashing facilities are available in the centre and in the public toilets.
If we provide equipment, it will be cleaned down before and after use with virucidal spray.  
Any bookings are based on current government advice and may be subject to change.  
What we ask of you:
  
If you, or a member of your group has any Covid-19 symptoms, please stay home. 
Please arrive 10-15 minutes early, so that you can pay, and we can book you in.
Please be mindful of others' space.   
Children must be accompanied at all times.
As spaces are limited, if you are booked onto an event, please inform us as soon as possible if you are not able to attend so that we can offer your place to somebody else. This helps us invest more in local wildlife conservation. 
Please take any litter back with you to recycle or dispose of it in a bin.