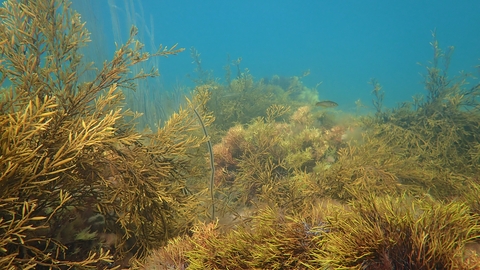 National Marine Week: Kimmeridge Bay LIVE!
Location:
Kimmeridge Bay, Kimmeridge,
(Drive through village to toll booth.),
Kimmeridge,
Dorset ,
BH20 5PE
Discover what Kimmeridge Bay looks like beneath the waves without getting wet!
About the event
NATIONAL MARINE WEEK EVENT
Discover what the bay is like beneath the waves, without getting wet!  A state-of-the-art underwater video camera will be deployed in Kimmeridge Bay broadcasting live footage to a screen inside the Wild Seas Centre.  Meet the designer, director of MarineSee and volunteer marine warden, Andy Marsh, to learn about the challenges of underwater filming and how new technology can be used to reveal hidden worlds under the sea.  Have a look at a custom-built underwater ROV (remotely operated vehicle) and find out how it can be used to help monitor marine life around our coasts. 
The live underwater camera is subject to weather and sea conditions on the day.  Recorded footage will be available to view in poor conditions.  Free event, drop in anytime over the weekend.
Booking
Price
Free entry, donations welcome.
Additional booking information
No booking required. Drop in anytime over the weekend.