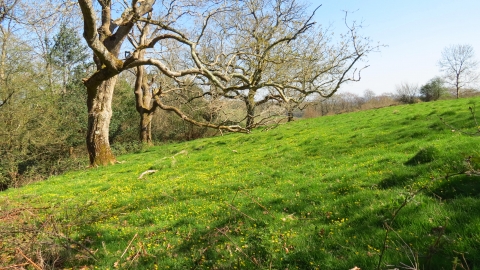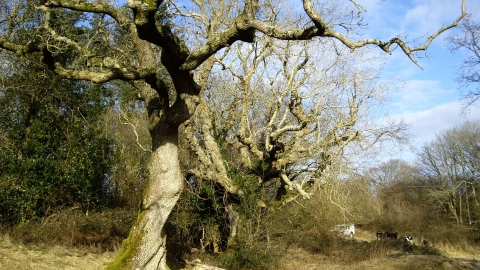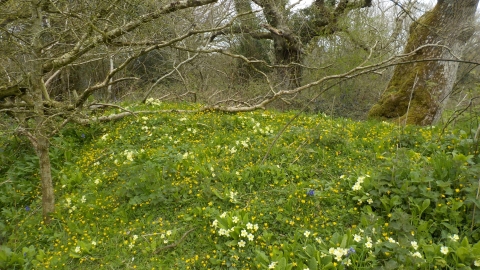 A reserve with a mix of different habitats, attracting a wide variety insects and birds
Know before you go
Entry fee
N/A
Parking information
Limited roadside parking in village of Hilton.
Bicycle parking
No
Grazing animals
Sheep and cattle may be on site all year
Access
Difficult access for those with poor mobility. Steep 1 mile approach track. Undulating ground and steep slopes on site with no formal paths. Access to the reserve through field gates.
Allow at least 15 minutes to reach the reserve from the village. The access track is fairly steep and can be muddy on the last stretch. The reserve is mostly on sloping ground, though there are some flatter areas across the top of the site the slopes are increasingly steep away from this and it can be especially steep and slippery in the hazel copse which is accessed by a single stile on the northern edge. The ground is rough and uneven in parts. Please be aware of the risk of falling branches - especially from the veteran trees - in or following strong winds. The dew pond is fenced out but is accessed by a stile.
Grazing animals are on the site for much of the year and ticks may be present, particularly in the longer grass. For more information on visiting DWT Nature Reserves, including more on general countryside hazards such as ticks, please see our Visitor Information page.
Dogs
On a lead
Please remove all dog mess from site. See above for more information about dogs on nature reserves.
When to visit
Opening times
Open at all times
Best time to visit
Year round
About the reserve
Once an 18th century deer park, Greenhill Down Nature Reserve has an impressive view across the Dorset hills to Milton Abbey School and grounds, and on a clear day you can see as far as Thomas Hardy's Monument.
The reserve itself is situated a mile from the village of Hilton and access is on foot along the road and through several gates. The trip is well worth it, as wildlife fans and walkers alike will be met with majestic veteran trees, hazel copse and rough pastureland.
On the steeper slopes, where chalk is exposed, uncommon plants such as rock-rose and dwarf thistle come through in a shorter, finer grassland and butterflies such as brown argus, grizzled and dingy skipper may be found.
In early summer, glow worms can occasionally be seen shining their lights in the balmy evenings and the reserve is home to various different bats which can be seen wheeling overhead. Green woodpeckers search for ants in the grass and hazel copse is an ideal habitat for the adorable, but elusive, dormouse.
A dew pond was restored on the western side of the reserve, this is now a thriving haven for damsel and dragonflies and both palmate and great-crested newt.
In the spring, the mixture of ancient trees, scrub and woodland plays host to a variety of breeding birds.
Useful Information
Leave the A354 at Milborne St. Andrew, following signs for Milton Abbas, then Hilton.  If arriving by car you will need to park in Hilton village but please do not obstruct the church.  Walk up the road directly opposite church for about a mile following as it becomes a track way. Enter the reserve through the gate at the end of the track.
Environmental designation
Site of Nature Conservation Importance (SNCI)