Is volunteering right for me?
Volunteers come to us for all sorts of reasons: to do their bit, to get healthy, to stay healthy, for the social element, for fun, for the challenge, to learn new skills, to practice old skills, to prepare for the workplace, to help wildlife, to get out into the fresh air, to learn about wildlife, to carry on using skills during retirement - and occasionally it's just to give it a go. We like to think that we have the ideal opportunity for everyone who comes to us – so why not put us to the test?
Scroll down the page to fill in our volunteering registration form. And you can sign up for our volunteering email here.
There are lots of different opportunities to volunteer with us, it's just a matter of choosing which ones you want to try. The main ones are: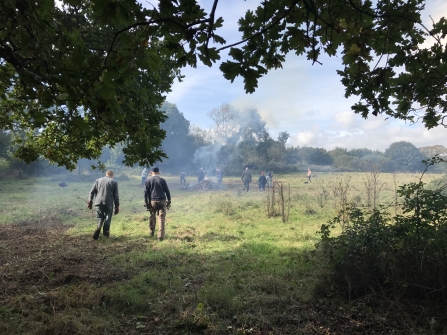 Meet the volunteer team near you
We have regional teams throughout Dorset. Feel free to contact them direct if you wish to discuss specific volunteering roles.
Susanna Holford - Volunteer Co-ordinator/ Placement Co-ordinator

Susanna Holford

Susanna is responsible for signposting new volunteers and liaising with enquiries about opportunities. She is often the first contact that online registrations have with the Trust.  She likes all wildlife and is particularly interested in wildlife gardening.

Susanna brings a wealth of experience to the team and represents Dorset Wildlife Trust at a number of Volunteer focus groups across the County. She is based alongside our East Dorset team at the Urban Wildlife Centre and so is very well placed to be our volunteering co-ordinator for the East & South Dorset regional teams.

Contact: Susanna Holford at sholford@dorsetwildlifetrust.org.uk
Steve Masters - Reserves Recording & Monitoring

Steve Masters © Neil Gibson

Steve works with the wardens and site staff across the area teams to make sure we have the wildlife data we need to manage our (non-marine) Nature Reserves. He is interested in hearing from anyone with existing wildlife identification and survey skills who would like to contribute to the nature reserves recording and monitoring programme, or from regular recorders at any of our sites. Occasional opportunities to be trained for specific surveys are advertised through the volunteer e-mail newsletter.

Contact details: Telephone 01305 217984 or email smasters@dorsetwildlifetrust.org.uk
Julie Hatcher - Marine Volunteers

Julie Hatcher

Julie is the Marine Awareness Officer and manages the Fine Foundation Wild Seas Centre at Kimmeridge where she organises the team of volunteer marine wardens.

Kimmeridge Marine Volunteers: Please contact Julie Hatcher on 01929 481044 or email her for details of Kimmeridge marine volunteering opportunities at kimmeridge@dorsetwildlifetrust.org.uk 
Andy Fale - Urban Wildlife Volunteers, East Dorset

Andy Fale © Brian Bleese

Andy Fale is the Urban Heaths Officer, he runs regular work parties on reserves in East Dorset.

Urban Wildlife Volunteers: Meet on the second Thursday of the month at the Urban Wildlife Centre, Beacon Hill from May to August and every Thursday from September to April. A mix of practical tasks and survey work, there will be something to meet everybody's needs.  For details of each task contact Andy Fale on 07970552673 or the Urban Wildlife Centre on 01202 692033.

 
Luke Johns - Brownsea Island Volunteers

Luke Johns © Damian Garcia

Luke is the Poole Harbour Reserves Officer, he runs regular work parties on Brownsea Island. ​​​​

Brownsea Volunteers: Meet on alternate Fridays from September and throughout winter helping with habitat management of this unique nature reserve. Contact Luke Johns (Poole Harbour Reserve Officer) for more information on 01202 709445 or email ljohns@dorsetwildlifetrust.org.uk
Ben Atkinson - North Dorset Volunteers

North dorset Volunteers © S Oliver

Ben Atkinson is the North Dorset Volunteer Co-ordinator as well as being the North Dorset Reserves Warden. He is involved with survey/monitoring work in the Summer. In the Winter, tasks mainly involve habitat management. He always ensures that volunteering tasks are enjoyable, action-packed and fulfilling - so if that sounds like the sort of thing you want to be involved in, drop him a line!

North Dorset Volunteers:  Meet one Sunday every month throughout the year and various Wednesdays. Much of the work will involve keeping the downland clear of invasive scrub.

For details and to confirm the meeting point, please phone Ben Atkinson on tel: 07458 073878 or email him  at batkinson@dorsetwildlifetrust.org.uk
Lucy Ferris - West Dorset Volunteers

Lucy Ferris

Lucy Ferris is the West Dorset Volunteer Co-ordinator as well as being the reserves warden for West Dorset. She runs regular volunteer work parties on our West Dorset nature reserves. 

West Dorset Volunteers: Meets every Tuesday from 10am until 4pm. Feel free to get in touch for more information if you are interested in helping the West Dorset wardens with a variety of practical management tasks.

For further details please contact Lucy on 07436 157488 or email her at lferris@dorsetwildlifetrust.org.uk.
Nick Gray - Pastures New Volunteers

Nick Gray

Nick Gray is the West Dorset Conservation Officer, he runs regular work parties which work with local landowners and farmers to restore and enhance wildlife-rich grassland.

THURSDAYS – PASTURES NEW: meet on Thursdays throughout the year (weekly in winter, fortnightly in the summer), for active conservation on wildlife-rich grasslands, hedgerows, woodlands and riverbanks. Based in West Dorset. Please contact Nick Gray for details on 07824438974 or email ngray@dorsetwildlifetrust.org.uk.
James Hitchen - South Dorset Volunteers

James Hitchen

James is the reserves warden for South Dorset. He runs regular work parties on South Dorset nature reserves.

South Dorset Volunteers: Meets on the second and fourth Tuesday of the month from 10 am. Please note dates may vary occasionally so check our on-line events guide for up to date information. Join the Warden on a practical task and help to manage our South Dorset nature reserves. Booking is essential. 

For more details or to book please e-mail the South Dorset Warden James Hitchen on jhitchen@dorsetwildlifetrust.org.uk
Lorton Meadows Volunteers

Lorton Meadows: Meet monthly on Wednesdays at the Lorton Meadows Wildlife Centre 10am ­ 3pm. Tasks involve scrub clearance, path and gate clearance, fencing repairs.

For further details please contact Chesil Beach Centre staff  on 01305206191 or chesilbeach@dorsetwildlifetrust.org.uk.
Volunteering opportunities
Volunteering events happening soon...
Volunteer registration form
Simply fill in this form to join us. We have lots of different opportunities available - we look forward to meeting you soon!
Useful downloads
If you would like to have a more in-depth read about volunteering with Dorset Wildlife Trust just click the relevant title below to download.