Covid-19 update
Although the current situation is starting to change, with the announcement of a further reduction in the isolation period coming into force from next week, we have continued to see high numbers of cases across Dorset.
The Dorset Wildlife Trust Covid action team chaired by our Chief Executive has therefore made the decision that the restrictions on events, tasks and associated face to face meetings/gatherings (including volunteering activities) will continue for the next week. We will be reviewing the current situation on a weekly basis from hereon as it is anticipated that matters may change quickly in the coming weeks. 
Our apologies for any inconvenience caused by this. If you have any questions, contact us on volunteering@dorsetwildlifetrust.org.uk.
Is volunteering right for me?
Volunteers come to us for all sorts of reasons: to do their bit, to get healthy, to stay healthy, for the social element, for fun, for the challenge, to learn new skills, to practice old skills, to prepare for the workplace, to help wildlife, to get out into the fresh air, to learn about wildlife, to carry on using skills during retirement - and occasionally it's just to give it a go. We like to think that we have the ideal opportunity for everyone who comes to us – so why not put us to the test?
Scroll down the page to fill in our volunteering registration form. And you can sign up for our volunteering email here.
There are lots of different opportunities to volunteer with us, it's just a matter of choosing which ones you want to try. The main ones are: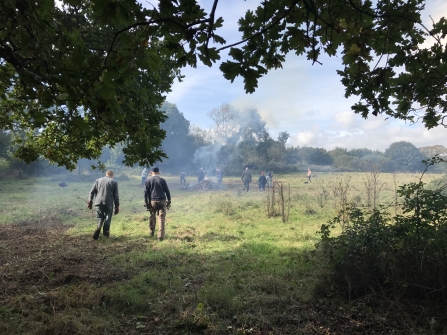 Meet the volunteer team near you
We have regional teams throughout Dorset. Feel free to contact them direct if you wish to discuss specific volunteering roles.
Volunteering opportunities
Volunteering events happening soon...
Volunteer registration form
Simply fill in this form to join us. We have lots of different opportunities available - we look forward to meeting you soon!
Useful downloads
If you would like to have a more in-depth read about volunteering with Dorset Wildlife Trust just click the relevant title below to download.