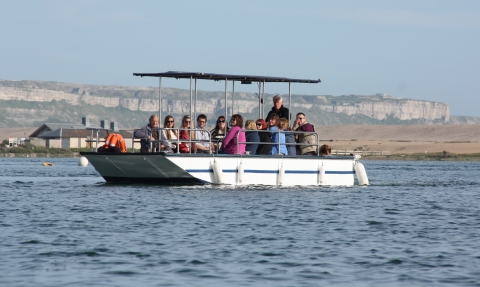 Take a trip on the Fleet Explorer
Enjoy an hour long boat trip on Dorset Wildlife Trust's Fleet Explorer
Find out about the iconic Chesil Beach, the little tern colony, local history, the wildlife of the Fleet Lagoon, and see what animals you can spot along the way. A great way for families, nature enthusiasts, photographers and visitors to explore the area, and experience one of the UK's most important Marine Protected Areas. 
The Fleet Explorer is a shallow drafted boat specifically designed and built to explore the lower reaches of the Fleet Lagoon.  The boat runs daily trips for visitors and has themed-events, as well as being available to charter for educational groups and special occasions like birthdays.
Your trip helps fund the running of the Fleet Explorer, which is also used to protect wildlife on Chesil and the Fleet by clearing litter, research, monitoring and helping the Little Tern Project. Any extra profit goes into supporting Dorset Wildlife Trust's local conservation work.
Covid-19 Safety

At this very difficult time, we want to reassure you that we are doing all we can to protect your health, our passengers and our colleagues. This is always our top priority and will continue to be so.

What you can expect from us:

Booking is essential, as there are limited spaces, 01305 206191
We are reducing passenger numbers so that there is extra space on the boat.
There will be a health and safety talk at the beginning of the trip which will cover current covid-19 safety information.
Face coverings are not required but may be worn if preferred.
There is hand sanitiser on board but we recommend that you bring your own (at least 60% alcohol) for regular use. 
The boat will be sanitised with virucidal spray in between trips.
Any bookings are based on current government advice and may be subject to change.  
We retain your details for track and trace but these will be destroyed after 21 days.

What we ask of you:

If you or a member of your family or group have any covid-19 symptoms including a cough, cold, temperature or have experienced an unexplained loss or change in sense of taste or smell please ensure they stay home and follow the government guidelines on self-isolation. 
Please arrive 10 minutes before the start of the trip.
Please be mindful of others space.  
Children must be accompanied at all times.
As spaces are limited, if you are booked onto a trip, please inform us as soon as possible if you are not able to attend so that we can offer your place to somebody else. This helps us invest more in local wildlife conservation.
Participants are advised not to touch their face, eyes, and mouth during the activity. 
Wash your hands after the trip and especially before eating.  
Please take any litter back with you to recycle or dispose of it in a bin.   

Thank you for helping to keep everyone safe!
Booking

The Fleet Explorer sails Wednesday to Sunday, weather and demand permitting until October. Trips last 1 hour and run throughout the day.

Adults £10.00 
Children £8.00 (3-15 years) Under 3's FREE 
Boat available to charter for your bubble, educational groups and special occasions.

To book or for further information please call the Fine Foundation Chesil Beach Centre on 01305 206191.

The Fleet Explorer carries up to 12 passengers, but we are currently limiting numbers to 10. Trips require a minimum of 3 passengers. We regret that the boat is not wheelchair accessible

You can pay cash on the boat, or you can pay by card at the Fine Foundation Chesil Beach Centre one hour before departure.
What to bring

Suitable clothing for the weather, but please be aware it can be slightly colder out on the water.

You can bring binoculars and cameras but not essential.
How to find us

Pay and Display parking available at the Chesil Beach Centre, DT4 9XE
There is a 10 minute walk from the Chesil Beach Centre to the Fleet Explorer jetty where you meet the boat.

Toilet facilities available at the Chesil Beach Centre.

There is limited free parking and drop off available next to the boat at Ferrymans Way, Wyke Regis, Weymouth, Dorset, DT4 9YU
Are dogs allowed on the Fleet Explorer?

Yes, at the discretion of the skipper. The boat is very small and so well behaved dogs are allowed, but there isn't room for them to really move around on board. The best thing to do is to speak to the Fleet Explorer Team when you book and they can give you more information: 01305 206191.