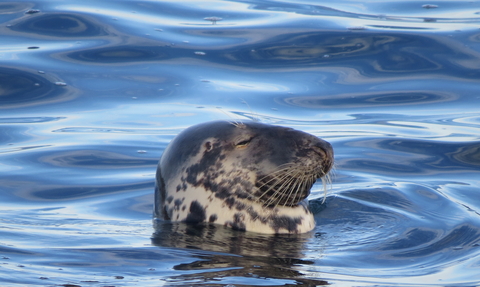 Dorset Seals
Discover Dorset's seals
Two species of seal are native to UK waters, grey seals and common (or harbour) seals, both of which can be encountered in Dorset. The UK is important for both species, home to almost 40% of the global grey seal population and around 30% of the European subspecies of the common seal population.
Seals are highly mobile marine mammals, capable of covering hundreds of kilometres and remaining at sea for days at a time. From time-to-time seals will come ashore, also known as 'hauling out'. This may be to simply rest and aid digestion however at certain times of the year they will spend longer periods of time on land such as during the moulting and breeding season. 
Although seals do not have any natural predators in Dorset, they face increasing pressures from environmental and human-based sources. Climate change is causing more frequent extreme weather events and affecting prey availability and distribution; people getting too close to seals leads to disturbance and marine litter poses a risk of entanglement.
Through our Dorset Seal Project, we have been learning more about seals that are spotted locally and raising awareness of these iconic marine species. We have also been promoting codes of conduct to reduce harmful human behaviour.
Why conservationists name seals
Conservationists don't usually name individual animals but when studying seals, having a name can be really useful. Here's Marine Awareness Officer, Julie Hatcher to tell us why and to introduce us to three of Dorset's seals. If you spot a seal, please keep your distance.