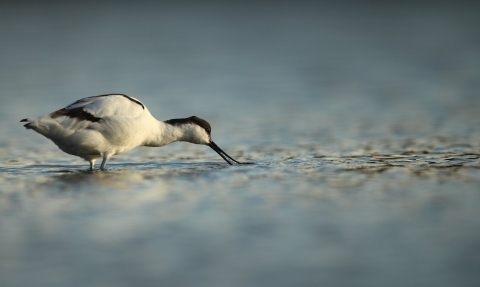 Wildlife Conservation
How we look after Dorset's wildlife
Dorset Wildlife Trust is the county's leading charitable membership body committed to ensuring that there is a secure future for Dorset's nature - its distinctive wildlife and natural spaces.  DWT uses a sound evidence base, influence and wide practical experience of land management and marine conservation to inspire, inform and engage people in Dorset.   You can find out more by clicking the arrows below.
We campaign for laws and policies that help wildlife on land and at sea.  

We look after 43 nature reserves – by protecting and managing special habitats and rare and uncommon wildlife, defending them against damage. 

We create Living Landscapes - by working with partners to restore habitats over larger areas of land such as river catchments. 

We protect wildlife at sea – by campaigning for its protection, seeking sustainable fisheries and demonstrating the value of marine habitats. 

We help others to manage land for wildlife – by providing advice and support to farmers, business, local councils, schools and communities.   
Conservation in the countryside

Our conservation work in the countryside - also known as our Living Landscape projects - involve the recreation of robust, resilient and connected landscapes on a large scale.  Living Landscapes are:  

Highly valued and accessible to people. 

Full of wildlife. 

Rich in opportunities for learning, health and wellbeing. 

Helping local communities and businesses to thrive.  

They will safeguard our wildlife through an unprecedented period of climate change and be stronger in the face of changes to agriculture, industry and communities.  The approach means we take into account the many factors which impact on wildlife and the wider benefits that nature conservation can bring to society as well as for wildlife itself. 

Silver-studded blue © Neil Gibson
Conservation in the sea

Within our conservation at sea work - or our Living Seas projects - marine wildlife thrives, from the depths of the ocean to the coastal shallows. 

In Living Seas: 

Wildlife and habitats are recovering from past decline as our use of the seas' resources becomes environmentally sustainable. 

The natural environment is adapting well to a changing climate, and ocean processes are helping to slow down climate change. 

People are inspired by marine wildlife and value the sea for the many ways in which it supports our quality of life. 

For Living Seas we need effective Marine Protected Areas and protection for marine wildlife, to ensure any development at sea avoids damage to wildlife and to support sustainable rather than harmful fisheries management. Find out more here.

A female spiny seahorse (Hippocampus guttulatus) shelters is a meadow of common eelgrass (Zostera marina). Photographed in summer (August) in Studland Bay, Dorset, England. British Isles. English Channel. - Alexander Mustard/2020VISION
How you make all the difference!

We believe that everyone deserves to live in a healthy, wildlife-rich natural world.  By supporting Dorset Wildlife Trust you are helping us to help nature and ensure we all have the opportunity to experience wildlife locally. If you would like to find out about becoming a member, please click here. Thank you - your support means the world to us and the wildlife of Dorset!