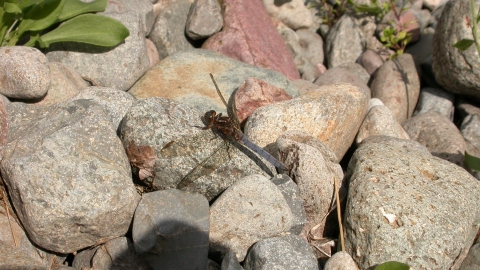 Keeled skimmer
Scientific name:
Orthetrum coerulescens
The Keeled skimmer is a dragonfly of heaths and commons with shallow pools. It has a skittish and weak flight, and is on the wing in summer and early autumn.
Species information
Category
Statistics
Length: 4.0-4.4cm
Conservation status
Common.
When to see
June to September
About
The Keeled skimmer is a medium-sized dragonfly. It is locally common in some areas of the UK, but has a patchy distribution. It can mainly be found on heaths and commons with shallow pools, and is on the wing from June to September. Keeled skimmers are quite skittish in flight, and can be seen quite a distance from water.
How to identify
The Keeled skimmer is slimmer than the similar Black-tailed skimmer. Males are pale blue, with grey-blue eyes; females are yellowy-brown with a black line down the middle.
Distribution
Widespread, but patchy distribution.
Did you know?
Keeled skimmers can be found resting low to the ground among the heather of their heathland homes. They sit with their wings held well forward.
How people can help
The Wildlife Trusts manage many wetland nature reserves for the benefit of the wildlife they support. You can help by supporting your local Trust and becoming a member; you'll find out about exciting wildlife news, events on your doorstep and volunteering opportunities, and will be helping local wildlife along the way. Encourage dragonflies and damselflies into your garden by having a wildlife-friendly pond. To find out more about gardening for wildlife, visit our Wild About Gardens website: a joint initiative with the RHS, there's plenty of facts and tips to get you started.