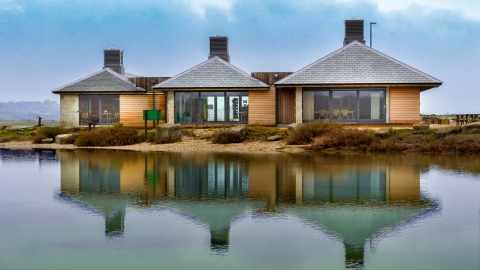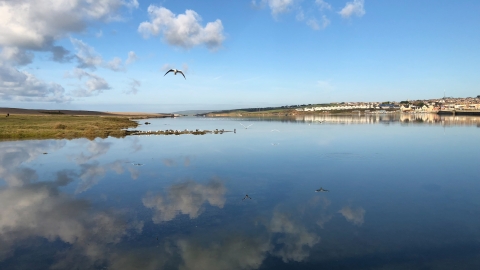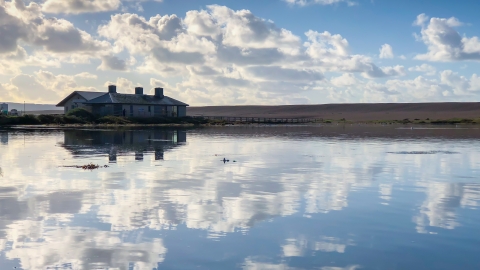 The Fine Foundation Chesil Beach Centre
We are pleased to announce that the Chesil Beach Centre and Taste* Café have now reopened. The centre is open 10am-4pm daily with self-led activities for families to enjoy safely outside. Taste* Café is open for indoors and outdoors service, and takeaway. The wildlife displays and inside seating are open as of Monday 17th May.

Visit us at the Chesil Beach Centre to discover all about Chesil Beach and the Fleet Lagoon.

PLEASE NOTE: To keep visitors and colleagues safe there are Covid-19 safety measures in place including, limiting the number of people in the Centre at any one time, social distancing, one-way systems, hand cleaning stations and card payments only. Face coverings need to be worn in the Centre.
Know before you go
Entry fee
N/A
Parking information
There is ample pay and display parking close to the Centre. See access information for more details.
Bicycle parking
Yes
Grazing animals
None
Access
There is disabled parking next to the Centre (charges apply) and a disabled toilet outside the Centre. The Centre itself is wheelchair accessible, and the boardwalk is suitable for wheelchairs and mobility vehicles but does not extend over the beach.
Some access restricted on the beach during the bird breeding season. 
Find out more about car park charges here. 
Dogs
Under effective control
Please keep dogs under close control on the beach and the mudflats, particularly near the birds. See above for more information about dogs on nature reserves.
When to visit
Opening times
The Visitor Centre is open 7 days a week.
Opening Hours: 10am – 4pm



Best time to visit
All year round.
About the reserve
Our family-friendly visitor Centre has interactive displays about the formation of the beach, local wildlife and history. Glimpse under the lagoon with our underwater camera, try a spot of bird watching, explore our marine touch table and listen to stories of fishermen who worked on the beach.
A walk up the beach reveals stunning sea views and a panorama including Portland and the Fleet Lagoon. A boardwalk next to the Centre allows easy access to the beach. In the Centre enjoy an underwater camera and a bird watching window with binoculars to see the array of birdlife that visit the mudflats. In spring the shingle turns into a sea of pink thrift that stretches towards Portland. Sea campion, kidney vetch, yellow horn poppy and other coastal specialists are also found on the beach. Chesil Beach and the Fleet Lagoon are internationally protected for their birdlife, which include wading birds such as dunlin, sanderling and ringed plover as well hundreds of brent geese and other winter wildfowl. There is rare colony of little terns which breed on the beach in the spring.
Enjoy a tasty treat at the Taste* Cafe at Chesil to make the most of your day with us. 
For information about the Chesil Bank and Fleet Nature Reserve including access, permitted activities and wildlife updates click here. 
For a wealth of information about the geography, geology and wildlife of Chesil Beach & the Fleet Lagoon, click here. 
Habitat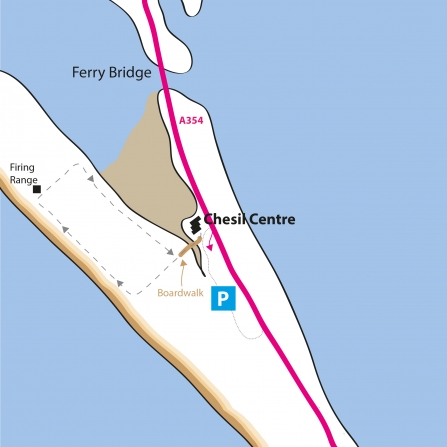 The Fleet Explorer

PLEASE NOTE: Unfortunately, to ensure the safety of our passengers and skippers, we will not be running any Fleet Explorer trips summer/autumn 2020 due to Covid-19. We apologise for any inconvenience and hope to welcome you back next season if it is safe to do so.

Explore Chesil Beach and the Fleet Lagoon by boat, with daily trips during the spring and summer season on the Fleet Explorer. A great way for nature enthusiasts, families and tourists to discover the secrets of the area. The Fleet Explorer is owned and run by Dorset Wildlife Trust.     

The Fleet Explorer © Angela Thomas
The Little Tern Project on Chesil Beach

For eight  years a partnership of organisations have worked together to help the Chesil Beach little tern colony, which had dropped in size from 100 pairs in 1997 to just 10 in 2008. Little terns are graceful seabirds that migrate from Africa to breed on UK beaches in summer.  They have started to return to Chesil Beach, the UK's most south westerly colony.

Little terns at Ferrybridge near Chesil © Angela Thomas
Shop at the Chesil Centre

We stock a range of wildlife inspired gifts, educational toys, wildlife books and local artwork. We are also stockists for Opticron, and have a great selection of binoculars, as well as running special optics events throughout the year.

All profits from our shop go directly back into our conservation work, so when you treat yourself, or a loved on, you are treating your local wildlife too.

Many of our products are also available in the DWT online shop.

Chesil Centre shop by Marc Kativu Smith
Volunteering at the Chesil Centre

The Chesil Beach Centre is run by a team of local volunteers. If you are interested in  wildlife or the local area, and would like to join us, please get in touch. No specialist knowledge is required just enthusiasm and a willingness to learn, help with the centre and talk to the public.

It's a great way to meet people, learn about your local wildlife and help support Dorset Wildlife Trust. There is a programme of social and training activities for volunteers, and you can also to attend most of our public events for free!

If you can spare a few hours a week, and would like to find out more, then email: chesilbeach@dorsetwildlifetrust.org.uk or phone us on 01305 206191.

We have lots of volunteering opportunities at Dorset Wildlife Trust.  Find out more here. 

Chesil Volunteers by Emily Brown 
Eco-Crabbing

Dorset Wildlife Trust promotes eco-crabbing and  encourages local people and visitors to enjoy crabbing in an eco-friendly way. 

Using hooks, over filling your bucket  and not keeping the water cool and fresh, can cause a serious problem for crabs but this can be avoided with Dorset Wildlife Trust's 5 simple steps:.

Five simple 'sideways' steps for a happy crab:

 Use bait bags instead of hooks;
 Have fewer than 3 crabs in a bucket at any one time;
 Replace the water frequently;
 Keep the water in the shade;
 Don't leave litter.

Take a moment to care for the marine wildlife you find. 

Crab by Angela Thomas 
Sponsor a Plank

Sponsor a plank

We would like to give you the chance to leave a lasting reminder of what Chesil Beach and its wildlife means to you or someone close to you. 

For only £50 you can sponsor a plank and have a brass plaque bearing your message permanently installed on the boardwalk leaving a lasting contribution to this special place.

Your sponsorship money will be used to fund the education work at the Centre. Contact 01305 206191 to find out more. 
Upcoming events at the Chesil Centre