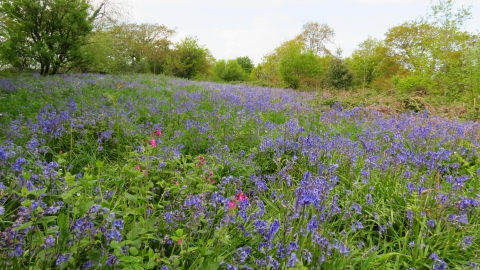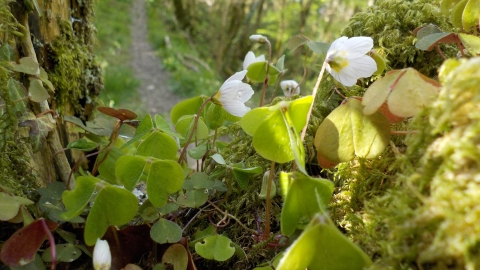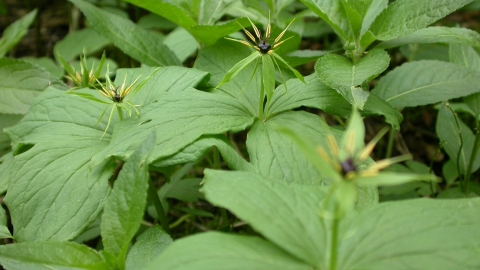 A peaceful woodland site once used as a place for reflection by monks from the Hillfield Friary
Know before you go
Entry fee
None
Parking information
At nearby Hillfield DCC site
Bicycle parking
None
Grazing animals
None
Access
Difficult access for those with poor mobility - steep slopes. Unsurfaced path on slope through wood. Main entrance via field gate onto grassy path.
Enter the reserve from the gate off the B road to the south of the reserve, or on the path up from the minor road from the friary. A well worn path takes you diagonally across the site between these two points. A further path leads across the top of the wood but you are best to return the same way once you reach the end of the wood as descending the slope here means traversing very steep, often slippery ground and can be very difficult. Care should also be taken on the upper track to avoid tripping on the many flints lying at the surface but often hidden by the longer grass, sturdy footwear is recommended for this path. Be mindful of the possibility of falling branches at all times but particularly following strong winds.
Ticks may be present on site. For more information on taking precautions against tick bites and other aspects of visiting DWT Nature Reserves please see our Visitor Information page.
Dogs
On a lead
Please remove all dog mess from site. See above for more information about dogs on nature reserves.
When to visit
Opening times
Open at all times
Best time to visit
Spring, Summer & Autumn
About the reserve
History and wildlife combine at Hendover Coppice to create a unique nature experience.
This peaceful woodland was once used as a place for reflection by monks from the nearby Hillfield Friary. The reserve is situated next to the Friary grounds near the village of Batcombe in north Dorset.
Hendover Coppice is a steep-sided copse that is home to a wealth of specialist woodland plants.
A crop of commercial conifers was removed by the last owner, allowing native species, mostly ash with a hazel understorey, to regenerate.
This quiet woodland is home to a variety of woodland birds, particularly listen out for the song of the willow warbler and black cap in spring.
The woodland is home to some rare wildflowers including the beautiful fly orchid and herb-Paris. The latter, with its whorl of four egg-shaped leaves, is known as the 'herb of equality' because all of its parts are considered equal and harmonious. This symmetry appealed to medieval herbalists, so it was used both in marriage rituals and to guard against witches.
Useful Information
The reserve lies to the north of the road between Minterne Magna and Holywell (Evershot).  The gated entrance is close to the public viewpoint at Highfield Hill, just west of the minor road leading steeply downhill to Hillfield Friary.  Parking available at the nearby Hillfield car park (Dorset County Council site).
Species
Habitat
Environmental designation
Site of Nature Conservation Importance (SNCI)