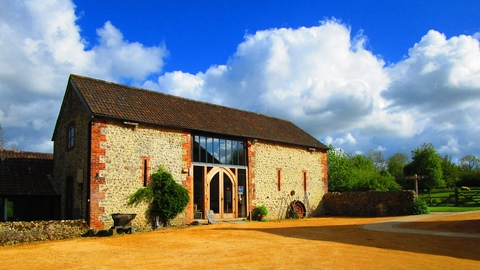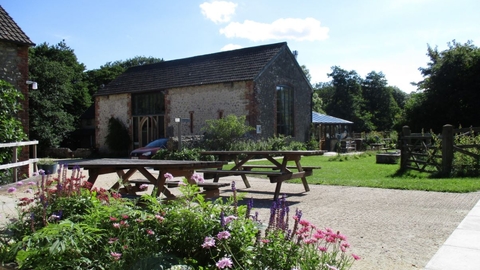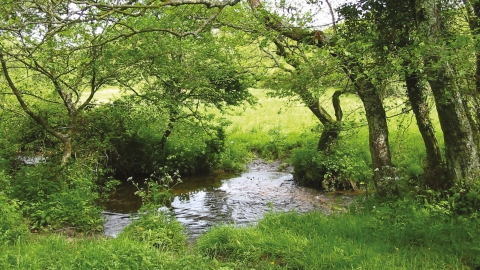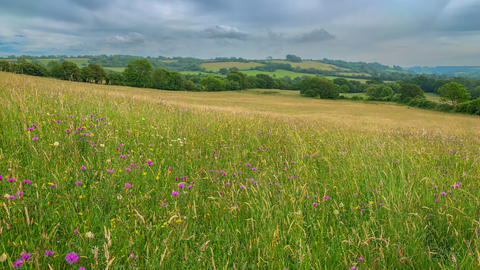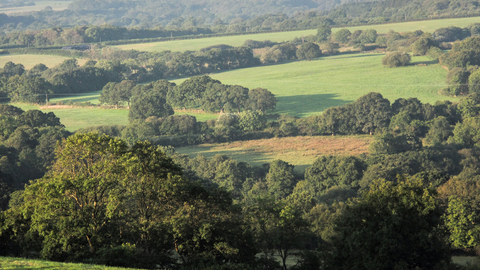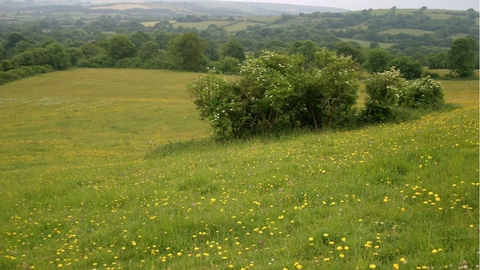 Set amidst winding country lanes, delightful rivers and superb, unspoilt countryside, Kingcombe Visitor Centre is a place to relax and be inspired. Spend some time exploring our wildlife-friendly gardens, orchards, bird hide and the boardwalk along the edge of the tranquil River Hooke. Visit the Kitchen at Kingcombe (open Wednesday - Sunday 10am - 4pm) for refreshments , cake or a light lunch or enjoy your picnic anywhere in the visitor centre grounds.

Kingcombe Visitor Centre is the gateway to the stunning Kingcombe National Nature Reserve, incorporating Kingcombe Meadows and Powerstock Common nature reserves, where you can enjoy exploring the unspoilt countryside and ancient woodland.
Know before you go
Dogs
Please keep your dogs on leads at all times whilst on the Nature Reserve and visiting the Kingcombe Centre
When to visit
Opening times
Kingcombe Visitor Centre is currently open every day from 10am - 4pm and the Kitchen at Kingcombe is open for refreshments from Wednesday to Sunday from 10am - 4pm.

Normally the Kingcombe Visitor Centre is closed in December and January but the surrounding nature reserve, car park and toilets remain open all year round.
Best time to visit
All year round. The Kingcombe Meadows nature reserve surrounding the centre has something to offer wildlife enthusiasts all year round, and each season holds different delights on the nature reserve, with May/June being peak wild flower meadow season.
About the reserve
Kingcombe Visitor Centre is a great place to visit whether you're looking to get away from it all and escape into nature for a day or a weekend! For a day visit, enjoy exploring the areas surrounding the centre, including the wildlife gardens, orchards, bird hide and boardwalk, or perhaps take a longer stroll on the 450-acre nature reserve surrounding the centre. Kingcombe Visitor Centre is the gateway to the wonderful natural world that sits in the heart of the stunning landscapes in West Dorset, and it provides a place of tranquillity, with a true feeling of being able to get away from it all and relax. 
For a longer stay, there's a variety of accommodation options, including a traditional roadworkers' hut and the stunning self-contained Beech and Pound Cottages on site, or stay in the Cowshed, an 11 room B&B option, opposite the centre. See below for more information. 
The hedgerows, fields and hay meadows that surround the centre remain pretty much as they were when Queen Victoria came to the throne and are almost untouched by artificial fertilisers and pesticides. As a result, they are home to a huge array of wildlife, some common and easy to see, others rarely found elsewhere in the UK.
Kitchen at Kingcombe
The Kitchen at Kingcombe is open Wednesday to Sunday from 10am - 4pm and offers the perfect spot for coffee and cake or a light lunch. The delicious menu includes snacks and light bites such as eggs benedict or sandwiches as well as more substantial lunches such as homity pie with salad or thick cut ham, eggs and bubble & squeak.  Alternatively you an enjoy a coffee or tea with homemade scones and cakes. Come and visit the Kitchen at Kingcombe soon!
Here's the Kitchen at Kingcombe Menu - please note that the menu is subject to change depending on what is in season.
Hire the Centre for an event or meeting

Looking for a comfortable and relaxing venue to run your own course, meeting, or event?  We have the perfect location at Kingcombe.

Peaceful setting - set amongst 500 acres of ancient countryside, our tranquil surroundings offer you and your participants the perfect stress-free setting for your activity and there are plenty of footpaths and places to ponder and relax at the end of the day.
Study room in Swallow Barn - We have a large open-plan study room that can be set out as you wish, equipped with overhead projector and screen as standard, which can seat 25 people in comfort.
Accommodation - Our accommodation can sleep 11 people in individual rooms, but as many of our rooms are, or can be set up to be, twin rooms, we can accommodate nearly 30 people if they are willing to share bedrooms, (this is 19 in the Cowshed B&B with rooms twinned up, 9 in Beech Cottage and two in the Orchard Hut.) The Orchard Hut itself can accommodate two people (and one well-behaved dog.) We have ample car parking to accommodate you. 
Catering - our on-site cafe, the Kitchen @ Kingcombe can supply all your catering needs, from cooked breakfast, through buffet lunches to three-course evening meals. Tea and coffee (and homemade cake,) can be provided at specific times or all day long, on a self-serve basis. We would be very happy to discuss catering options with you. Please feel free to call us on 01300 320684 or email us on kingcombe@dorsetwildlifetrust.org.uk.
We can host a range of independent parties, from universities and colleges, through special interest societies to walkers, painters and embroiderers, and would be very happy to discuss your exact requirements. If you would like more information, or to pop in and see us to see what we have to offer or to discuss a booking, please call us on 01300 320684 and we would be delighted to make arrangements.
Prices start from £40+ VAT. 
Volunteer at Kingcombe

Would you like to get outside more, connect with nature, meet new friends and learn new skills? Why not join our volunteer team helping with our wildlife and kitchen gardens here at Kingcombe? 

Although gardening knowledge is welcomed, it doesn't matter if you're not an experienced gardener.  The main thing is that you enjoy being outside and are willing to give it a go. There's always a variety of seasonal activities for all abilities such seed sowing, weeding, harvesting and working as a team to develop the centre grounds to encourage visitors to learn about the amazing wildlife on our doorstep. 

Volunteering can help you to towards an active lifestyle, make new friends, learn new skills and feel satisfied in the knowledge that you're providing an invaluable service for the centre and the Dorset Wildlife Trust as a whole. 

If you are interested in volunteering at Kingcombe please register centrally via volunteering@dorsetwildlifetrust.org.uk.

Find out more about volunteering opportunities for Dorset Wildlife Trust 
Accommodation at Kingcombe
Escape to nature surrounded by the very best of Dorset's wildlife where you can experience the rare freedom to roam undisturbed in this natural landscape.  Surrounded by 450 acres of the Kingcombe Meadows nature reserve in west Dorset, we can provide accommodation in the Cowshed, self-contained holiday cottages - Beech Cottage and Pound Cottage, or the Living Van, our refurbished roadworkers' hut where you can wake to the sound of birdsong and feel closer to nature. 
Living Van

Snuggle up in the Living Van with its cosy woodburner for a taste of the outdoors while you drift off to sleep to the gentle sounds of the night. Tucked away in the heart of the Kingcombe Meadows nature reserve in west Dorset, our Living Van offers a truly special getaway. Once providing shelter for road workers, this stunning van has had a makeover, providing a cosy double/twin bed, log stove and electricity to ensure a comfortable night's sleep before waking to the sound of birdsong. 

Guests have use of their own bathroom in a nearby building, a private deck area and a firepit to roast some marshmallows! Pets are welcome too and there's space for a tent outside.

Prices from £65 per night 

If you would like to speak to someone before you book, please phone 01300 320684.

 
Pound Cottage

Originally the pound keeper's cottage on the local estate, Pound Cottage is now a perfect retreat for those wanting to get away from the hustle and bustle. Situated near to the Kingcombe Visitor Centre, the cottage sleeps up to 3 and is a warm and cosy base from which to explore the acres of the Kingcombe National Nature Reserve and the surrounding area.

This characterful cottage boasts a log burner, exposed brickwork and original flagstone flooring and has been recently refurbished throughout.

To see more photos and book via Sykes Cottages:
Cowshed

Recharge with a good night's sleep in comfortable rooms in  the Cowshed. With 11 rooms in total, all ensuite except one, this accommodation is simple yet comfortable. Guests have the use of a kitchenette with tea and coffee facilities, lounge area and WIFI.  We have one ground floor room that is suitable for disabled access.

All our heating and hot water is generated on-site using sustainable fuel pellet technology and solar panels. Dogs can be accommodated in some rooms for a small surcharge.

Single ensuite room - from £54 per room per night.
Twin ensuite room - from £69 per room per night.

To check availability and prices, please call Kingcombe on 01300 320684
Beech Cottage

Beech Cottage is the perfect place to get away from it all, with a private garden, fully fitted kitchen, large lounge with woodburner, conservatory and five bedrooms (sleeps up to 9).

This self-contained cottage in Lower Kingcombe is set back from Kingcombe Road, at the end of a private drive. It has its own car park and with five bedrooms (four with ensuite bathroom) including a ground floor bedroom and separate bathroom suitable for disabled access.  Dogs are welcome.  Short breaks available.

Escape to nature with access to over 500 acres of nature reserve only a few feet from the front door!

Beech Cottage is part of the Kingcombe Visitor Centre run by Dorset Wildlife and is located in the heart of Kingcombe Meadows nature reserve. Staying at Beech Cottage offers guests the opportunity to immerse themselves in wildlife and the countryside and enjoy access to a variety of nature trails that explore this unique corner of Dorset. There are also opportunities to take part in self-led walks (maps provided!) and activities at the Kingcombe Visitor Centre.

To book or enquire about availability, visit Classic Cottages using the link below.