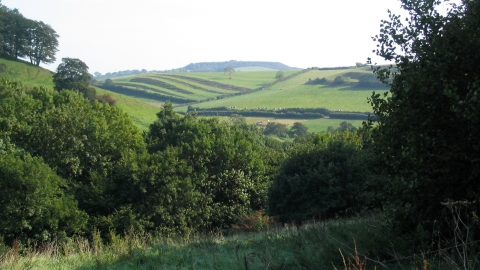 A peaceful meadow set on a hillside in a quiet corner of West Dorset
Know before you go
Entry fee
N/A
Parking information
No parking at reserve.
Bicycle parking
Yes
Grazing animals
Cattle grazing from April through to November.
Access
From main entrance up short, steep slope via field gate. From allotments (to a steep track downhill) and green lane (to more-or-less level grass) through pedestrian gates. No formal paths, mostly uneven or sloping ground.
There are no paths through the grassland but visitors can wander through as they wish. The ground can be a little rough and uneven in parts, with very wet ground in low lying areas. The stream is fenced off from the fields but a deep ditch separates the two, with a small culvert giving access between the areas - take extra care crossing if the ground is wet. There is no access to the woodland which occupies steep slopes and is very wet and boggy near the stream.
Cattle graze the site at times. Please be aware of the risk of falling branches in or after strong winds. For more information on these and other general countryside hazards please see our visitor information page. Be aware of ticks.
Dogs
On a lead
Please remove all dog mess from site. See above for more information about dogs on nature reserves.
When to visit
Opening times
Open at all times
Best time to visit
Spring & Summer
About the reserve
Multi-stemmed maples and majestic old sweet chestnut and ash trees enclose this peaceful, sloping pasture.
At the centre of this reserve are two small fields of tussocky, dry and damp grassland, providing good structure for invertebrates and small mammals. Bordered to the north by an old green lane with ancient hazel stools, supporting dormouse, long-tailed tit and bullfinch; and to the south by a narrow strip of streamside woodland, rich with ferns and opposite-leaved golden-saxifrage. A further strip of woodland covers the slope at the western end of the site.
The wooded sections support a variety of woodland birds including the harbinger of spring – the chiffchaff - while the stream is visited by the secretive otter.
Useful Information
Leave the A35 to follow signage for Uploders. Once in Uploders village turn left by the Crown Inn to follow signs for Loders. Proceed into Loders and turn right opposite the school, sign-posted for Nettlecombe/ Powerstock. Park on the outskirts of the village and walk along Smishops lane for approximately 200m before entering the reserve up an access ramp on your right-hand side. Also accessed on foot via Whetlands Lane track or the footpath running through Loders village, and an informal link to the old railway line.
Environmental designation
Site of Nature Conservation Importance (SNCI)