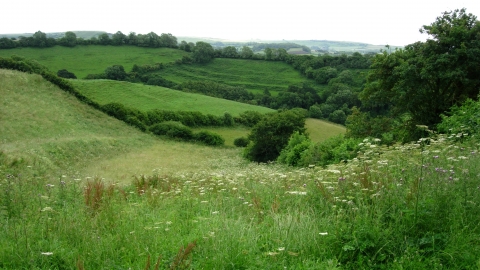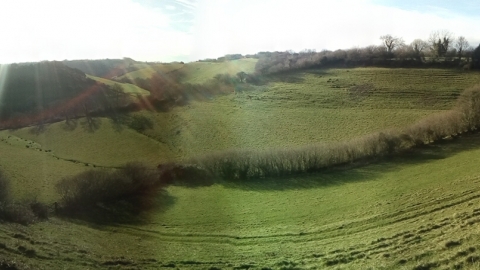 Steep wildflower rich grassland and wet woodland, within a hidden valley.
Know before you go
Dogs
Remove all dog mess from the site. See above for more information about dogs on nature reserves.
When to visit
Opening times
Open at all times
Best time to visit
Spring and summer
About the reserve
South Poorton is a steeply cut river valley, with far reaching views of the surrounding countryside. Hedgerows host the enigmatic songs of yellowhammer and wistful calls of bullfinch. While the flatter parts of the site have undergone some agricultural improvement in the past, the steeper slopes and areas around the stream hint at what would once have covered much of the countryside in this area. Bird's-foot-trefoil, mouse-ear hawkweed, field scabious and cowslip are amongst the species clinging to the drier slopes, while lousewort and Devil's-bit scabious are dotted in the damper areas.
Man's long influence on the land can be seen in the strip lynchets, relics of past farming techniques, that cross the upper fields.  At the bottom of the valley you are immersed by the sound of trickling water, as a stream flows through alder woodland, supporting song thrush, nuthatch, chiffchaff and otter.  The fields are fringed by thick, species rich, hedgerows, which burst with the songs of yellowhammer, goldfinch, and linnet, and supporting dormice.  
Useful Information
Leave Bridport on the A3066 towards Beaminster, turn right just after leaving the town towards West Milton. Just before the village of West Milton take the left-hand turn onto ridgeback lane, follow along the lane for approximately 2.5km and the reserve is on your right hand side. Look for a slight pull in by a gate about half way along (space for one or two cars), or go through the easternmost gate (park just into the field, clear of the gate).
Environmental designation
Site of Nature Conservation Importance (SNCI)
Site of Special Scientific Interest (SSSI)