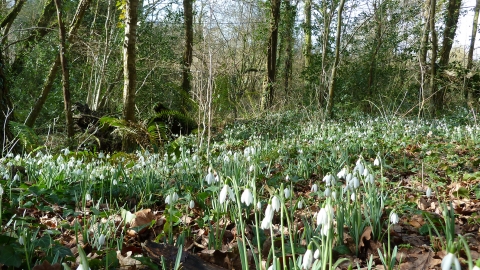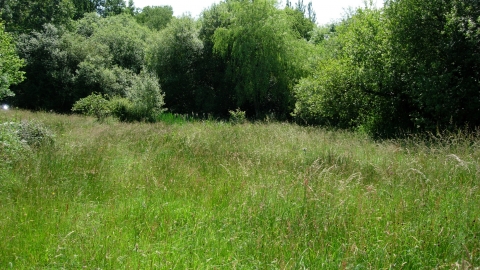 Traditional pasture with a small pond, wet grassland, oak woodland and hedges
Know before you go
Entry fee
N/A
Parking information
Car park for 2 cars
Bicycle parking
No
Grazing animals
Cattle grazing in spring/ summer.
Access
Field gate at entrance but locked when livestock on site and then stile only. Grassland is very wet with ditches to cross, but drier just inside the entrance giving some access to view pond. Ground conditions in woodland are drier and fairly flat but with narrow path and bridge, possible roots across path. 
Cross the stile to enter the meadow (the gate will be unlocked if no stock are present) or follow the small path  just to the left of the gate to head into the woodland. The meadow itself is wet in places and is criss-crossed by a series of ditches that may be partly obscured when the meadow is tall and the pond is unfenced. Take care crossing the small bridge in the woodland, especially after rain when it may be slightly slippery. Please be aware of the risk of falling branches in or after strong winds.
Cattle graze the grassland for a short time during the spring and summer and there may be ticks on site. For more information on these general countryside hazards and other aspects of visiting our nature reserves please see our visitor information page.
Dogs
On a lead
Please remove all dog mess from site. See above for more information about dogs on nature reserves.
When to visit
Opening times
Open at all times
Best time to visit
Spring as the reserve comes to life
About the reserve
Traditional unimproved pasture with hedges, pond and a small flower rich copse. Although small, the reserve contains an interesting mixture of habitats, perfect for a shorter but interesting visit. The rich community of plants in the meadow is typical of grasslands in damp neutral to mildly acidic conditions that were once widespread but are now very uncommon, due to agricultural improvement. Wildflowers present in the meadow, which is quite wet in parts, include devil's-bit scabious, lady's smock, oxeye daisy, ragged-Robin, meadowsweet, spotted and southern marsh orchid. The meadow provides an attractive habitat for butterflies such as the orange tip butterflies early in the year, and marbled whites in mid summer, so keep an eye out for these species flitting around the reserve.
The woodland, with oak, hazel, holly and sallow also has a rich spring ground flora with early purple orchid, wood anemone, snowdrop, sanicle and moschatel. A small stream runs through the copse with signs of otters sometimes seen. A real treat in spring, when the nature reserve really comes to life. 
Useful Information
Heading west from Verwood on the B2081, after Romford take the second left to stay on the B3081 (signed for Shaftesbury and Wimborne St. Giles). Follow the road round the bend and, just as the road is straightening up, look for a track to the right. Follow this for about 100m to a parking area for one or two cars by the gate to the reserve.
Species
Environmental designation
Site of Nature Conservation Importance (SNCI)
Site of Special Scientific Interest (SSSI)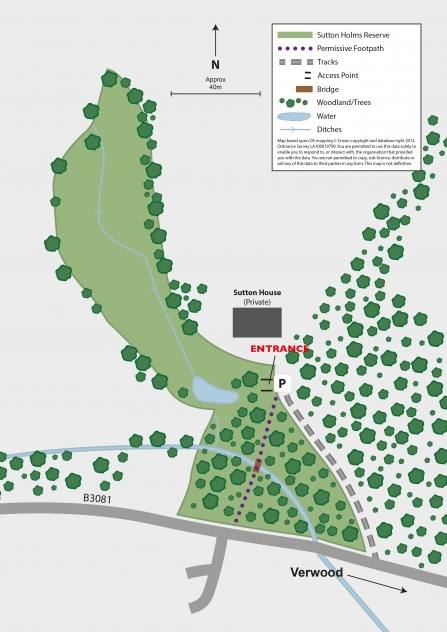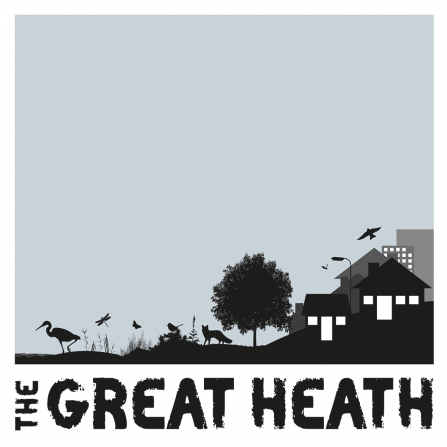 Part of The Great Heath Living Landscape