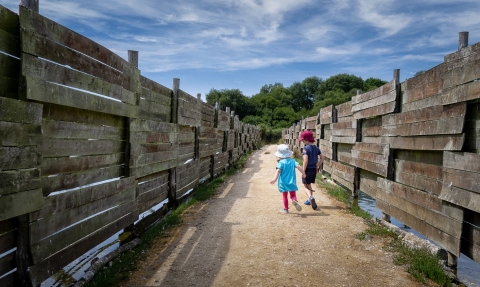 Help to secure Brownsea's future
Bring nature and people together
Wild Brownsea - Help to secure Brownsea's future
What is Wild Brownsea?
Wild Brownsea is an ambitious conservation project designed to bring people closer to nature. By improving the facilities at our nature reserve on Brownsea Island, we aim to build closer connections with the Brownsea wildlife to inspire people to take action to protect and respect our wildlife and wild places now and into the future. You can find out more about this exciting project and how you can join in, here.
What we need to secure Brownsea's future
We launched Wild Brownsea last year, but we still need to raise vital funds to support the future of this unique wildlife haven.
£25 will buy a 20kg bag of peanuts - ensuring our red squirrels and birds survive the winter. 
£50 will buy timber to create eight new tern chick shelters.
£100 will fund a working party to tackle invasive species.
£250 will buy four new pairs of chest waders - helping volunteers repair breeding bird islands.
£500 will buy a moth trap  - helping to teach children about these amazing and vital pollinators. 
A donation receipt will be emailed to you when we have processed your donation.
Thank you for supporting this once in a generation project.
Protect Wild Brownsea - now & in the future