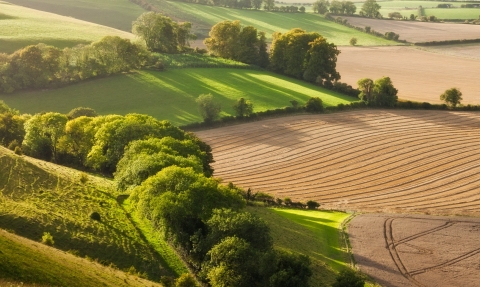 Climate emergency
What is a climate emergency?
We continue to lose our most precious remnants of wild natural space and vast numbers of our insects and birds. Our existing laws are too weak and the climate and ecological crisis we face is not being taken seriously enough. We need ambitious natural climate solutions that capture carbon in our peatlands, meadows and forests.
What is DWT calling for?

We face heartbreak daily as we see the wildlife we love lost time and time again.  As a movement, The Wildlife Trusts stand united with all those who share our belief that nature is valuable in its own right as well as being essential to our existence. We believe that:

We must come together to restore our habitats on a landscape scale, and bring our seas back to life if wildlife is to thrive again. The damage must stop and the tables must be turned. (*You can read about how we and The Wildlife Trusts plan to do this by creating Nature Recovery Networks here.)
It's time to accelerate action on the climate crisis including through restoring our natural world, not least our damaged peatlands that currently release the same carbon as three cities.
It is not acceptable to continue showing a lack of respect for our natural world, building massive roads for carbon-hungry cars or bigger airports across ancient woods and other vital wildlife habitats. 
It's time for new laws that will truly give nature and people a safe and healthy future.
What are we doing to tackle this climate emergency?

Across the UK Wildlife Trusts are working to protect and restore habitats. We tackle this climate and ecological emergency every day and lead work on solutions wherever we can, but we all need to work together for a healthy natural world. 

Our #WilderFuture campaign calls for a Nature Recovery Network in law. This would stop the damage and expand and re-connect isolated habitats. Rather than just protecting small areas of land, this would enable wildlife to recover and thrive. We need world-leading legislation for nature's recovery.

In Dorset, we are working to help protect wildlife and wild places from the affects of climate change, such as loss of homes and habitats. You can donate to our appeal here.

This year, we launched our biggest ever campaign, #GetDorsetBuzzing, to encourage people to help pollinators thrive in their gardens. By creating a patchwork of wild spaces for nature in Dorset, our aim is to get and keep Dorset buzzing for years to come. You can still sign up here and help make a difference on your patch!