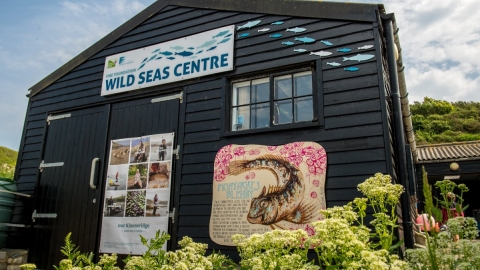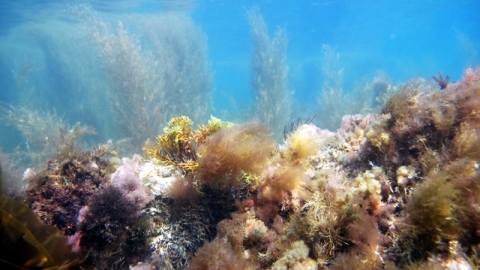 The Fine Foundation Wild Seas Centre
The Wild Seas Centre is open 11am-4pm at weekends during November. It will be closed during December and January. Please be aware that masks need to be worn inside the centre and measures are in place to ensure social distancing is possible.

An interactive marine centre situated on a beautiful stretch of Dorset's Jurassic Coast, with splendid views from grassy cliff tops and an underwater nature trail for snorkelers.
Location
Know before you go
Entry fee
£6 Road toll fee (depending on vehicle)
Parking information
Parking fee included in road toll fee
Bicycle parking
No
Grazing animals
No
Access
The area around the Wild Seas Centre centre is accessible, however terrain can be uneven so sturdy footwear is advisable.  
Dogs
Under effective control
See above for more information about dogs on nature reserves.
When to visit
Opening times
11am-4pm on weekends in November. Closed throughout December and January.

Limited access to the beach in winter. Check tide times to plan your rockpooling adventures!

Best time to visit
April to October
About the reserve
The Fine Foundation Wild Seas Centre, with interactive displays & aquaria, provides a fascinating and innovative source of information, encouraging all ages to explore the bay, its ledges and rockpools.
Kimmeridge Bay extends along a beautiful stretch of Dorset's Jurassic Coast, with splendid views from grassy cliff tops & underwater nature trails for divers & snorkelers. 
The Wild Seas Centre offers a focal point to the enjoyment of exploring the bay and its rockpools & ledges. The snorkel trail allows a unique glimpse under the waves and snorkelling equipment is available to buy. Peer into the water to see a wide variety of seaweeds and rockpool creatures. Specialities include Peacock's Tail Seaweed, Connemara Clingfish and Montagu's Blennies. This is a Marine Conservation Zone so please always follow the Seashore Code. In Shallow water, large wrasse and shoals of small fish can be seen against a colourful backdrop of Rainbow Wrack & coralline seaweeds.  Occasionally large marine mammals such as seals and dolphins can be spotted. 
Useful information: 
Toilets are located in the car park. 
Take the A351 from Wareham to Corfe Castle & the first turn right to Creech.  Follow road to the top of a steep hill & round a hairbend bend signposted to Church Knowle.  Approx. 2 miles on, turn right to Kimmeridge.  Drive through village to toll booth.  Parking fee payable to Smedmore Estate.  
To plan your visit to Kimmeridge Bay, check the Lulworth Range Walks and Tyneham village opening times. Useful information can be found here.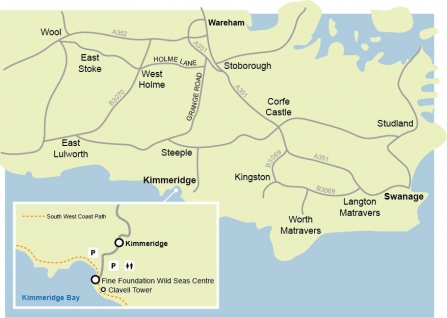 The Kimmeridge Snorkel Trail

The Snorkel Trail in the mild, shallow waters of Kimmeridge Bay, leads the snorkeller through a variety of seabed habitats, including sandy seabed, rocky reef and Japanese seaweed garden.

The 5 buoys that mark the trail are attached to the seabed and each reveals a different type of habitat with different marine creatures and colourful seaweeds to look out for. However the trail is only in place from May to September each year.

The trail: 

should only be followed in clear, calm sea conditions and is best used during neap tides.
should be avoided after heavy rain or strong winds as the shallow bay takes time to settle and the visibility will be limited.
should only be used by confident sea swimmers - it is approximately 400m long, passes through patches of seaweed and the water can be colder than you're used to. A wetsuit is advised, to lengthen the time you are able to spend in the water and to aid buoyancy.
is only in place during the summer months from May to September.

We are here to help

DWT wardens at the Fine Foundation Wild Seas Centre, by the slipway in the bay, are able to help with:

safety advice and whether conditions are suitable to use the trail
purchase of a waterproof snorkel trail guide.

They are NOT able to lead snorkellers in the water or hire any other equipment - you will need to provide your own wetsuit. Fins or flippers are not necessary as these can create accidental disturbance and damage to wildlife.

Purchase a waterproof snorkel trail guide

The waterproof snorkel trail guide can be purchased from the marine centre and gives directions for following the trail, safety advice, snorkellers code of conduct and a photo identification guide to the commonest wildlife along the trail. It costs £3. 

Kimmeridge snorkel trail video © Andy Marsh 
The Seashore Code

To keep both yourself and wildlife safe please always follow the Seashore Code.

Don't take living things away with you.
Carefully replace seaweed and rocks exactly as you found them.
Be gentle with wildlife.
Observe wildlife where it lives - limpets, anemones and seaweed will die if pulled off rocks.
Don't paddle or throw things in rockpools - they are creatures' homes.
Avoid trampling on plants and animals - keep to dry, bare rock.
Leave sea and shore birds alone to feed.
Take all your litter home.
Don't get cut off - check tide times before venturing along the coast.
Keep back from the edge and foot of cliffs - rock falls are frequent and unexpected.