Dorset Wildlife Trust manages 100 hectares of land on the northern side of Brownsea Island - it is an internationally important nature reserve featuring rare wildlife including red squirrels and wading birds. Located in the heart of Poole Harbour, the reserve is managed in partnership with the National Trust and forms part of the Purbeck National Nature Reserve and also a legacy of the Great Heath Living Landscape.

Scroll down to see our Brownsea Island webcam.
Know before you go
Dogs
See above for more information about dogs on nature reserves.
When to visit
Opening times
Brownsea Island is open from 19 March 2022 to 30 October 2022. If you're planning a trip to Brownsea, then you'll need to catch a foot ferry which runs every day from Poole Quay only. The Sandbanks service is suspended until further notice. Visit www.nationaltrust.org.uk/brownsea-island for more information.
Best time to visit
Early in the year for winter bird visitors, summer for breeding terns and autumn for red squirrel watching.
About the reserve
Brownsea Island has now reopened for visits departing from Poole Quay only. Please refer to the National Trust's Brownsea Island page for more information and to book. Telephone bookings can be made on 0344 249 1895.
Brownsea Island is a very special place. It is one of the few places left in the UK where you can catch a glimpse of a red squirrel. We estimate that 250 of these iconic creatures live on the island and are often seen scampering up and down the trees gathering and devouring nuts. If you have adopted one of these beautiful and playful creatures from Dorset Wildlife Trust, this is the chance to see them for yourself – a wonderfully comical sight in autumn when they busily start caching food for the winter ahead, searching out just the right spot to hide them in- a process that can take some time! Read more about our exciting #WildBrownsea project here - we have big plans to attract more wildlife and people to Brownsea.
And it's not just the red squirrels that the nature detectives in the family will be able to spot – the lagoon plays a vital role in providing a safe haven for overwintering birds including avocets, black-tailed godwits and large numbers of wildfowl. In winter it's also possible see huge groups of spoonbills. These tall white birds can be seen swishing their spoon-shaped bills through the water as they feed. 
In the summer, the lagoon bird hides are a great place to watch common terns, sandwich terns and gulls. The reedbeds and alder carr are home to water voles, sika deer, kingfishers and water rails.
We are very fortunate to have such a fascinating reserve on this beautiful island which we share with the National Trust, the Scouts and John Lewis Partnership. Brownsea Island was saved for wildlife and people to enjoy in 1962 when the National Trust took ownership and leased the northern part to Dorset Wildlife Trust. Since then we have worked to protect the habitats of rare and threatened wildlife, which find sanctuary in its woods, reedbeds and lagoon. Take a walk through the woods following the footpaths to see glorious views across Poole Harbour.
Our Wildlife and Wetland Centre is situated in the middle of the reserve. Why not bring a picnic and sit on the benches in the sun, watching birds and squirrels nibbling seeds from the nearby feeders? 
You can read more about Brownsea Island's place in the new Purbeck National Nature Reserve here.
Habitat
Environmental designation
National Nature Reserve (NNR)
Ramsar
Site of Special Scientific Interest (SSSI)
SPA
Would you like to help wildlife havens like Brownsea Island Nature Reserve?
Or if you already receive our updates, please consider...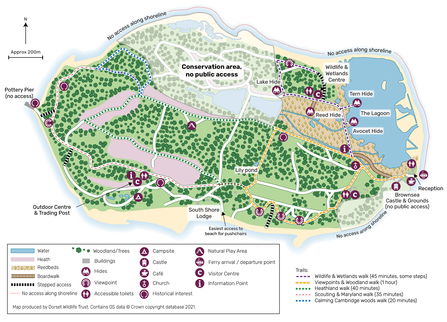 Upcoming Events on Brownsea Island
Brownsea Lagoon webcam
Due to technical issues, the Brownsea lagoon webcam in collaboration with Birds of Poole Harbour is not currently available. We are currently looking at upgrading the system and hope to have it back in action for the autumn/winter period.